...celebrating every swee​t pea their birth
| | |
| --- | --- |
| Posted on November 11, 2011 at 4:57 AM | |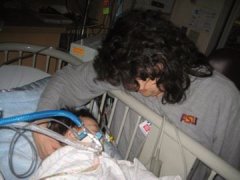 RSV experience
This is on day four of hospitalization - many of the tubes had already come out.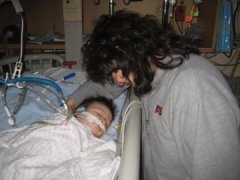 RSV experience
This is on day four of hospitalization - many of the tubes had already come out.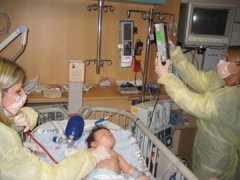 RSV experience
Checking out all the meds and straightening out the lines.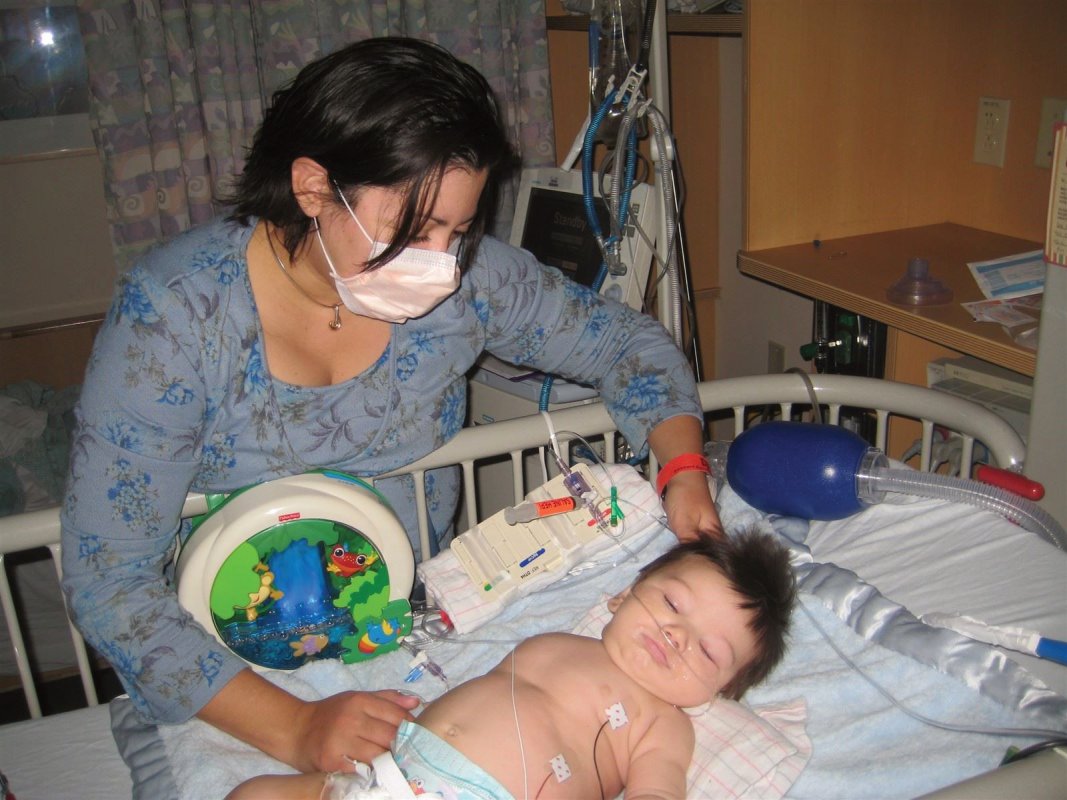 RSV experience
Day 5 - Breathing is stabilized and now we just need oxygen to keep the levels up in his body.
As we enter cold and flu season, I am compelled to write about RSV and some protective measures you can take to protect infants from this vicious virus.  Bruss and I are big advocates for our children, especially the youngest members of our family, during cold and flu season.  Our Night Owl had a life-threatening experience with RSV when he was three months old, and that has made us painfully aware just how fragile our sweet peas can be. 
(Picture notes: Night Owl made a more rapid recovery than most children - he was only intubated four days.   We credit that to the fact he was covered in prayer across the country, and he got breast milk in his feeding tube!)
When someone with a cold coughs or sneezes, they spread droplets of cold germs on nearby surfaces.  Those germs can live for hours.  If they are near us, the germs can fall on our skin or clothing.  If they were in a space before us, we unknowingly touch the infected surfaces and then infect ourselves with the same cold virus.  While these viruses are around throughout the year, they thrive in the chilly, dry air of winter.  The critical mass makes the amount of people showing symptoms of a cold or a flu infection more noticeable during the winter months.
"RSV" stands for respiratory syncytial virus, a common, easily spread virus.  It causes excessive fluid build up in the lungs.  It is not devastating to an older child or an adult because they have the capacity for a strong sneeze, and the ability to blow their nose to clear the congestion. 
An infant lacks both of these mechanisms to clear the fluid from their lungs.  Therefore, the fluid builds up and the breathing gets more and more labored.  As we found out, higher altitudes add additional stress to the lungs and cause them to fail faster.  What we believed to be a simple cold turned out to be RSV.  Our son's right lung collapsed and he spent four days at Phoenix Children's Hospital fighting for his life.
If you have had a baby within the last year, please take this information to heart.  Do not be afraid to tell people they cannot touch or hold your baby if you haven't seen them wash their hands before asking or reaching for your child.  Be courageous for your child – you are the only one who can speak for them when they do not have words to protect themselves.  You can help them get through this season in good health with some simple precautions. For some communication ideas to use with family or friends,
READ THIS
.
RSV Disease Symptoms to watch for:
     -    Coughing or wheezing that does not stop
     -    Fast breathing or gasping for breath
     -    Spread-out nostrils and/or caved-in chest when trying to breathe
     -    A bluish color around the mouth or fingernails
     -    A fever: in infants under 3 months of age, a fever greater than
          100.4 deg F rectal is cause for concern
If you see your baby exhibiting any of these symptoms, get them to the pediatrician's office or to a care facility right away.  A swab test can be done to determine whether your baby has been infected with RSV.  Early treatment can head off the worst effects of this disease and shorten your hospital stay, if not avoid it altogether.
Precautions we learned the hard way:
Wash your hands thoroughly before touching your baby and ask others to do the same.  This is especially important if you have been out in public touching shopping carts or other high-touch surfaces (handrails, ATM's, refrigerator handles, doorknobs, computer keyboards, telephone handsets).  I included some tips for hand washing from WebMD at the end of this post.  Don't have access to a sink before unloading your groceries or after handling cash?  Have hand sanitizer readily available – attach a bottle to your diaper bag or keep some sanitizing wipes in your car that you can use before touching your baby.
Do not let anyone smoke in your home, or near your baby.  Second-hand smoke irritates the lining of the lungs; specifically, it has been found to damage the surfactant that makes breathing possible. (See Link 2)  Damaging that lining on top of dangerous germs makes for a sick baby who can't breathe well.
Wash your baby's toys, clothes an bedding often.  In order to effectively kill germs, the water temperature needs to be between 140 – 150 degrees F.  Most people don't turn their water heaters up that high, and even if they do, that water temperature is hard on fabrics.  If you can, use bleach with your detergent when you wash clothing and bedding.  If you prefer not to use bleach on fabrics, you can run a cycle with hot water and bleach to clean your washing machine after washing 3-5 loads of laundry.  This will kill the germs in the machine and theoretically you have cleaner clothes since you aren't washing germy items in a germy machine.
Keep your baby away from people with colds, crowds and young children.  Keeping away from a person with a cold seems pretty obvious.  However, when that person with a cold is the loving relative who came all the way to see the baby, it is harder to say no.  Head off the uncomfortable situation by making it very clear that people need to be healthy when they come visit your baby.  We let people know that if they have been exposed to a person with a fever or have had a fever themselves in the 24 hours before coming to visit, we would appreciate seeing them another time. 
Crowds and young children follow from that idea.  It is impossible to know who has been exposed to what and when that exposure happened in both situations, so the best choice is to avoid them altogether.  As the respiratory therapist at Phoenix Children's told us, "Don't go to church or [insert big box store name here] during flu season" since people will go to both places whether they are sick or healthy, and both places are frequented by young children. Between poor hygiene habits and exposure to germs through toy and space sharing with other children, these kiddos are walking germ factories during cold and flu season.
My favorite way to kindly ask people to keep their hands off comes in the form of a sign from Healthy Little Ones.  Click
here
to see what this mom-preneur has to offer.
Change your clothes and wash your hands when real life interferes.  You will have to venture out to the grocery store at some point this season, and some of us still do our holiday shopping in high-traffic areas.  When you do have to go out, take precautions when you come home.  If possible, arrange for another parent or caregiver to stay with your baby when you need to go out.  Anybody who goes out should change all their clothes when they come back from shopping.  Here is the way it goes down at our house: once we get home, we strip in the laundry room and get the clothes into the washer.  Then we wash our hands and put on clean clothes.  It makes for extra laundry; however, we have been fairly fortunate in avoiding nasty colds the last couple of years.
I hope these ideas help you avoid any emergency room visits and/or hospital stays.  We wish you and your sweet pea good health this season.
Do you have any cold-prevention tips to share with us? Please help us add to our list by leaving a comment below.
From WebMD:
Washing your hands for cold prevention
Wet your hands with water, then apply soap. CDC guidelines advise using a plain,
non-antimicrobial soap (no antiseptic ingredients).
Rub your hands together vigorously for 15-30 seconds. Wash the wrists, between the fingers, and under the fingernails. When you have time, use a nailbrush, as bacteria often hide under the nails.
Rinse your hands thoroughly and dry with a clean towel in a public restroom, shut the faucet off with a paper towel.
Try to push the door open with your shoulder, or use another paper towel to turn the knob.
What if you are not near a sink?
Keep an alcohol-based sanitizer for hands if a sink is unavailable. Rub your hands until they are dry.  The alcohol in the gel kills the germs on your hands.
Reference and Related Links:
(1) RSV Information
(2) Second hand smoke research
(3) Tips on washing your clothes and cleaning your washing machine
(4) WebMD on Handwashing
Disclaimer: 
The material included on this site is for informational purposes only.
It is not intended nor implied to be a substitute for professional medical advice. The reader should always consult her or his healthcare provider to determine the appropriateness of the information for their own situation. This blog contains information about our classes available in Chandler, AZ and Payson, AZ and is not the official website of The Bradley Method®. The views contained on this blog do not necessarily reflect those of The Bradley Method® or the American Academy of Husband-Coached Childbirth®.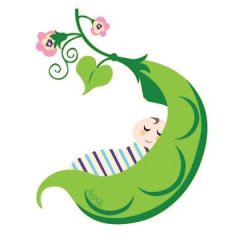 Categories: Avoiding harmful substances, Childcare, Fussy baby, Newborn Care, Parenting, RSV
/