...celebrating every swee​t pea their birth
| | |
| --- | --- |
| Posted on January 31, 2012 at 3:07 PM | |
If you have been out in the world long enough, you have noticed that people come in many different stripes…each unique and individually driven.  Some folks thrive on competition, others like to hang out of the fray, some people like crowds, others prefer to keep to themselves – there are so many different variations in personality that exist side by side in our world.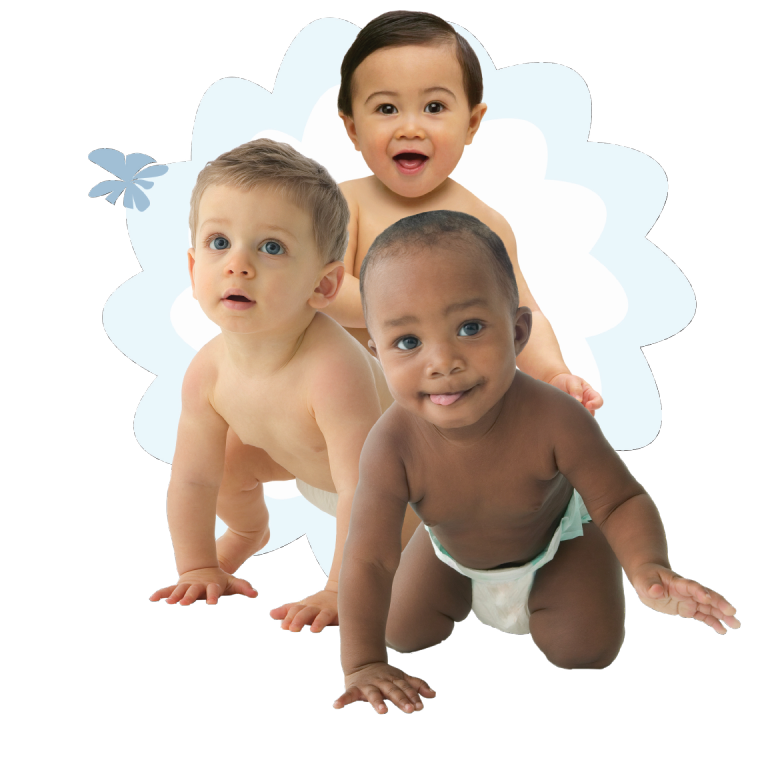 When I gather with a group of moms, it is inevitable that I hear the evaluation questions that aim to determine who has the best and brightest child.  Admittedly, being a competitive person myself, this is what I hear, not what all parents might necessarily get from the conversation around them.  Anyhow…the questions start, "How much does Baby weigh?  How long has Baby been (insert "trick" here…rolling over, sitting, crawling, pulling up, etc.)?  Have you started…?"
As our children get older, it's academic level, sports skills, report cards, etc.  There are so many aspects of childhood where parents can compare notes.  I feel that it is important to acknowledge that our feelings about our children's progress in respect to their peers are a reflection on us, not them.  A child left to its own devices is curious, playful and wonderful.
One of the biggest challenges I have as a parent is to allow our children to discover who they are instead of superimposing my personality on them.  A wise momma of two adopted children once told me that her advantage as an adoptive mom was that she had no preconditions or expectations of her children to follow in her footsteps; she was helping them discover their talents and gifts since the pressure to genetically "be like mom" or "be like dad" was non-issue for them.  I often go back to that wisdom when the kiddos are acting their own way instead of mine!
Which brings me to the point:  let your children be who they are.  They are each unique, individual and ready to discover the world.  Each child will develop at their own pace, and that pace may not be what you or your in-laws were expecting.
There are important milestones to be aware of, and if a child is developmentally delayed then you can start asking questions and seeking help.  (see links below) However, if a friend's baby rolled over a week or two before your baby, or if someone is introducing solids and you aren't their yet, it is okay.  When your child is ready, it will be easy to do those things.  When they are not ready, a fussy or grumpy baby is telling you that its not their time yet.
Our children are children for such a short time when you look at a person's lifespan.  Allow them the time and the space to be themselves.  Let them have the 10 – 12 years free of judgment before peer pressure and social pressure start to influence them.  They have a good 40 – 60 years of being a "grown up" if they are blessed with a long life.
What can you do to help your baby learn and be stimulated?
Read to them every day for a minimum of fifteen minutes.  You can start reading to them as soon as they are born – pick your favorite novel and read it aloud to them.  Ysabella heard the Fellowship of the Ring in Spanish throughout her first year.  The boys were read Harry Potter in Spanish.  With Angelika we are reading the Two Towers in Spanish.  It doesn't matter that there are no pictures.  When they are ready to look at books, incorporate your favorite stories and rhymes.  The important thing is that they are hearing the sounds and the flow of spoken language.
You can sing to them – rhyming songs, counting songs, silly songs.  Music has a great way of diffusing a tense situation.  If you and baby have had a long day by yourselves, singing and adding a little movement can help bring everyone back to the "happy place".
Turn off the entertainment system in the car and talk to your children when you are driving. Point out colors, textures, context of buildings and their function.  Pick a color, shape or a sign of the day and have them call out the object when they recognize it.
You can use things around the house to make manipulative games that teach reading and math skills.  Help them notice things that are the same, things that are different, things that go together, things that are opposites.  Make patterns with objects, put several things in a row and face one in a different direction to see if they can notice the subtle difference.  If they can't, play the games that they can master.
Play with puzzles.  Start with the chunky ones they can "eat" if that's where they are developmentally.  We like the ones with the knobs and cut-outs.  Move up in level when they are ready.  Make games out of throwing pieces from several puzzles on the floor, give everyone a board, and take turns drawing pieces to see if they fit on their puzzle board.
There are many signing, music and now even sensory classes available in Arizona if you want to get out of the house.  I find taking the kiddos to swimming to be a great sensory activity – water touches all the nerves on the skin, the sound and smell of the water, the faces and colorful suits of their classmates, and then there is always a snack afterwards.
Love your children, provide opportunities for them to learn and grow.  I promise you will be pleasantly surprised on more than one occasion.
What kinds of games or activities do you like to do with your child(ren)?
Here is a link for milestones – scroll down.  It seems like each state is implementing a Birth to Five initiative – check with your state children's services and see if there are resources available in your state:
Learn the Signs. Act Early.
"The Centers for Disease Control and Prevention's (CDC) National Center on Birth Defects and Developmental Disabilities (NCBDDD), in collaboration with a number of national partners, launched a public awareness campaign called "Learn the Signs. Act Early."   The campaign aims to educate parents about childhood development, including early warning signs of autism and other developmental disorders, and encourages developmental screening and intervention. "
Disclaimer: 

The material included on this site is for informational purposes only.
It is not intended nor implied to be a substitute for professional medical advice. The reader should always consult her or his healthcare provider to determine the appropriateness of the information for their own situation. This blog contains information about our classes available in Chandler, AZ and Payson, AZ and is not the official website of The Bradley Method®. The views contained on this blog do not necessarily reflect those of The Bradley Method® or the American Academy of Husband-Coached Childbirth®.
We are now enrolling for our Spring Series
March 5, 2012 to May 21, 2012
For more information or to register, please call us at 602-684-6567 or email us at
[email protected]
Categories: Childcare, Parenting
/