...celebrating every swee​t pea their birth
| | |
| --- | --- |
| Posted on February 28, 2012 at 3:34 PM | |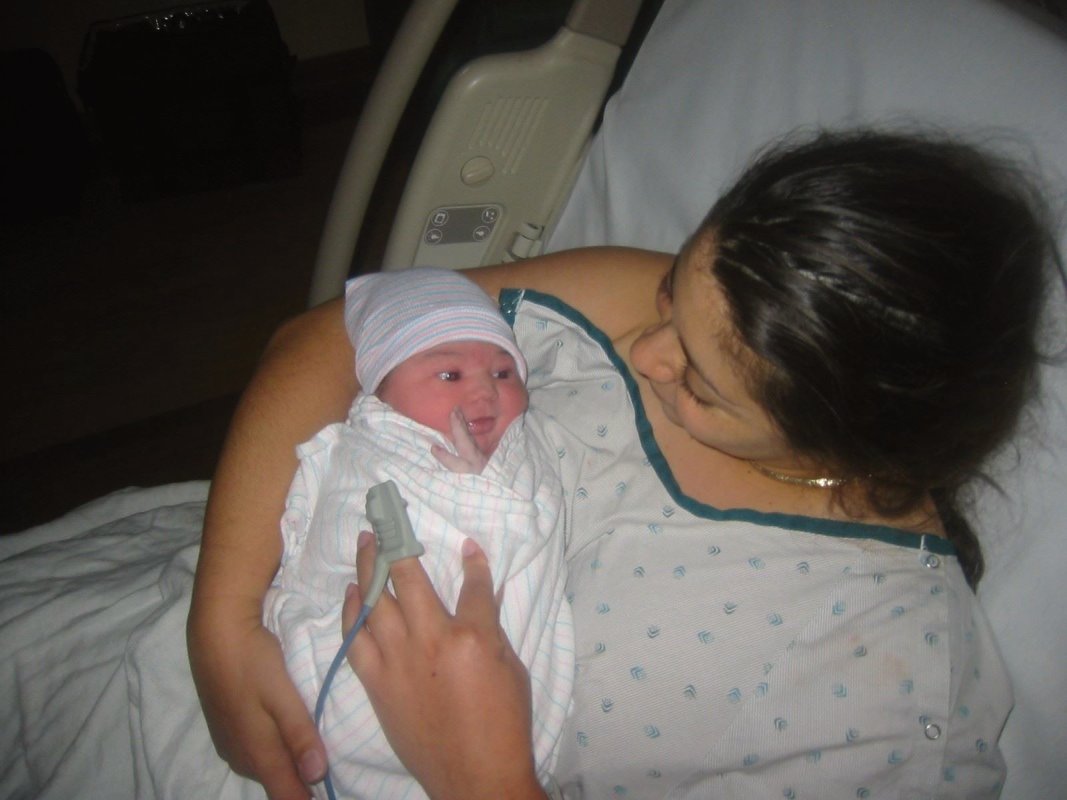 The night arrived again – when we say farewell to our students and wish them the best for their birth and the journey of family upon which they are about to embark.  Bruss always tells the first-time parents that he is jealous of them because there is nothing else like the experience of welcoming your first child and discovering parenthood for the first time.
I reflect and wonder if we have told them everything, showed them everything, practiced everything – which is of course, realistically, impossible.  I take heart in the fact that in some classes, some babies arrive a few weeks earlier than the estimated due dates.  Even though the parents do not complete the series, the births have all gone pretty well.  We are covering enough material to allow these families to have Healthy Mom, Healthy Baby outcomes, and at the end of the day, that is the most important aspect of the classes we teach.
Before we complete the last class, the phrase "one more thing" is said a lot in that final session.  Here are the impressions we want to leave our students with…
On teamwork:
They have learned several strategies for positive communication. 
There are several places in their class materials to find the questions for informed consent.  If they remember nothing else, the first questions to ask are, "Is Mom okay?  Is Baby okay?  Then they can ask for the benefits, risks, expected results, alternatives to the suggested procedure, and a timeframe to think about it before making a decision.
If there is time, it is always okay to ask for the privacy to talk things through before making a decision.
Always evaluate any decisions that need to be made with the Healthy Mom, Healthy Baby filter on.  As long as they remember the ultimate goal, they will be able to make peace with the decisions they make in labor.
On managing labor:
The amount of sleep a couple gets can positively or negatively effect their outcome.  Against the odds, try to sleep in spite of the excitement.
Eat if you are hungry, drink if you are thirsty.
Fast labors are indicated by a rapid progression of duration, intensity and frequency of the contractions.  If you notice that things are getting longer, harder, stronger and closer together over the course of a couple of hours, you need to get to your birthplace sooner than later.
Long labors are indicated by little or no change in the duration, intensity and frequency of contractions over the course of several hours.  If your contractions start ten+ minutes apart, and they are still ten+ minutes apart two hours later,  you are in for a marathon – stop timing, eat something, hydrate, shower and go to bed!  Although we do not wish this labor on anyone, if it is your birth story, you will be happy you rested early on, because you will definitely have energy when you need it later.
It is possible to sleep between contractions or even through contractions.  Surrender to the process and allow Mom to rest.
Relaxation is on physical, mental and emotional levels.  There are several summary pages we cover so that they can find and refer to what they need at different points in their labor.
  (To read in more detail about evaluating your labor,
click here
.)
On Motherhood:
They are about to embark on one of life's greatest gifts.
It's called "mother's instinct" for a reason – it is unexplainable and a mystery how we are all connected, however, if they have any feelings or sense anything as it applies to their baby or their family, go with it – they are invariably proven to be the right decisions to make.
They are not alone – reach out for help if they are feeling overwhelmed, tired or just need another adult to talk to when Coach goes back to work and they are home alone with baby.
Nursing should not hurt, and it is also a learned behavior.  Each breastfeeding relationship is unique with subsequent children.  If they experience any pain, difficulty, or as questions arise, there are several free options from which to find answers: La Leche League, hospital support groups, community support groups.  If they experience any fever or lingering pain, get professional help from a medical care provider: it is best to be told how to find a solution early on, than to let things go and get into a situation where the breastfeeding relationship is compromised.
They cannot spoil or hold their baby too much.  It is okay to ignore people who tell you otherwise!  Your baby is designed to be with you and a part of you – they are cute, sweet and cuddly for a reason!  The time in our lives when they need us is so short compared to the time they are independent, so savor every moment of their infancy and hold them as much as you want to!
The sound of your child's crying makes your heart hurt for a reason – you are supposed to respond to them and meet their needs.  If the basics of wet, hungry and tired are satisfied and they are still crying, there may be other reasons why they cry: lonely, scared, in pain, over-stimulated…all of them good reasons to hold them and reassure them that it is okay and you will find a path together.
On Fatherhood:
Mom and Baby will continue to be an exclusive unit for a little while longer.  Until Coaches are allowed into the "Inner Circle", there are many ways to support that MotherBaby unit so that they thrive and succeed: support the mother's decision to breastfeed by bringing her food and water every time she nurses, hold the baby so she can sleep and build her milk supply and stay rested to avoid postpartum issues, change the baby's diaper so mom can take care of her personal needs, keep telling her that she is doing a great job and you appreciate everything she is doing to take care of your child.
Even if you feel you are outside of the circle, there are special things that only Coaches can do.  You can soothe the baby when mom needs a break.  Coaches have a different energy that babies respond do.  One mom shared a tip they learned in breastfeeding class:  Moms always smell like milk.  If there is fussiness at the breast, Dad can take baby and calm him/her since he doesn't stimulate their sense of smell for food…and when everyone is in a better place, they can try nursing again.
The time will come when you become part of that "Inner Circle".  Your baby will recognize you and crave your attention – enjoy it!  You can sing to them, read to them, snuggle with them even before you feel completely "in", and by the time you are "in", baby will be confident and comfortable with you; the rewards of taking a vested interest in your child are immeasurable.
Our parting wish is for them to have a very Happy Birth-Day; and to come back to share their beautiful babies and their birth stories with future classes.  The most fun of all is to meet again at their Bradley® Class Reunion – it is always fun to see all the Bradley® babies "earthside," and hear all the new families exchanging stories and experiences.
Which parting thoughts resonate with you?  Please add your own words of wisdom in the comments section.
Disclaimer: 

The material included on this site is for informational purposes only.
It is not intended nor implied to be a substitute for professional medical advice. The reader should always consult her or his healthcare provider to determine the appropriateness of the information for their own situation. This blog contains information about our classes available in Chandler, AZ and Payson, AZ and is not the official website of The Bradley Method®. The views contained on this blog do not necessarily reflect those of The Bradley Method® or the American Academy of Husband-Coached Childbirth®.
Categories: Bradley Method® outcome, Bradley® Coaches, Childcare, Coaches, Coaching, Crying, Drinking during labor, Eating during labor, Going to your birthplace, Informed Consent, Labor Marathon, Labor Sprint, Support Groups, The Bradley Method® classes
/