...celebrating every swee​t pea their birth
| | |
| --- | --- |
| Posted on April 6, 2012 at 12:14 PM | |
Hello, students and friends…Happy Passover and Happy Easter to all.
Here is a picture of our kiddos taken in time to share for the holidays…some days, I still cannot believe we are parents to four children!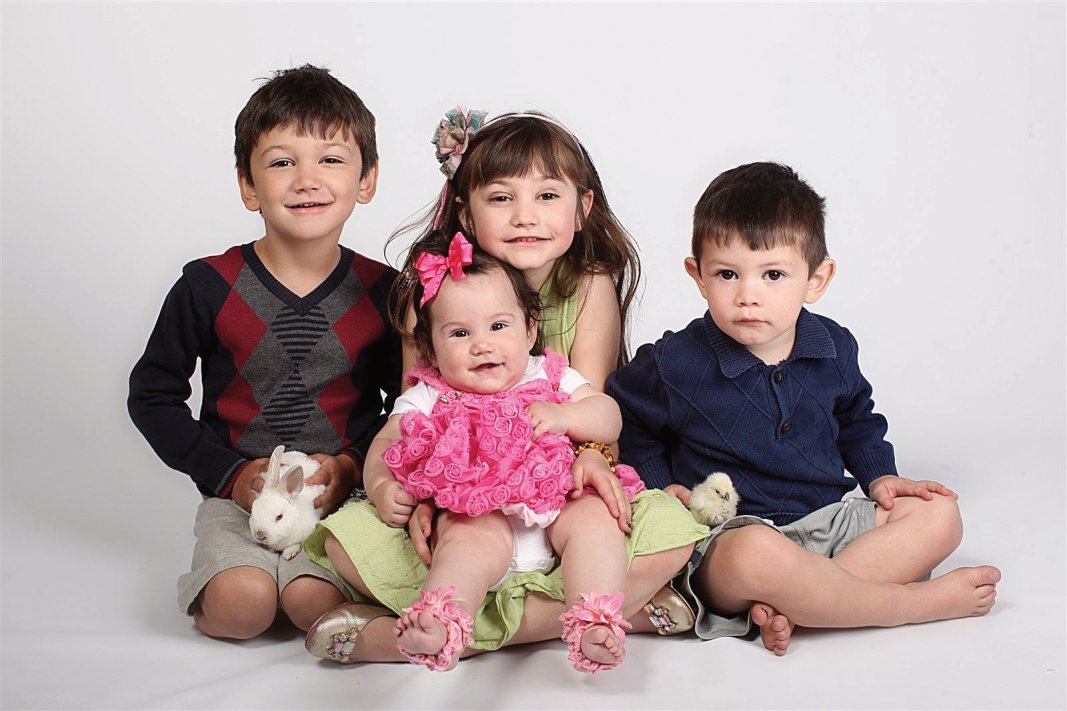 ©2012 Marriott Photography
Which brings me to today's topic – one size fits all parenting.  I saw a picture on Facebook that raised my red flag radar.  As an advocate of natural birth and attachment parenting, I love seeing things that reinforce my beliefs.  At the same time, I am concerned when people take those beliefs too far and attribute authority that stretches the truth.
Here is the claim I question – my issue is with the front of the card (top half of the picture):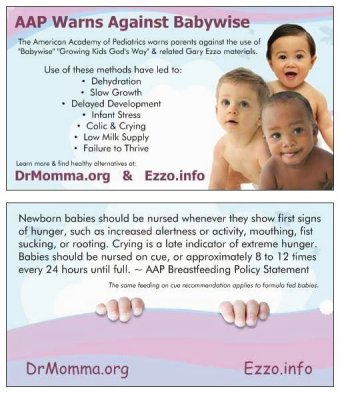 The things listed on the top half of the card may be true and I do not endorse the ideas ascribed to the Ezzos or Babywise.  In fairness, I did some poking around because while I wanted to believe it, I was incredulous that a professional organization would single out one singular set of ideas to be harmful.  Maybe one pediatrician – but all of the "powers that be" agreed?  Does it sound realistic to you that a group made up of doctors could agree on any one thing in regards to parenting? 
I found the article that was published against the Babywise principles, of particular concern is the concept of Parent-Directed Feeding (PDF).  Yes, it was in the AAP News.  Fact check: the article is in the commentary section.  I also found a pediatrician who published in favor of those principles.  Surprise! It's the co-author of On Becoming Babywise – he justifies his positions.  To balance it all out, I share three links from the "official" AAP in regards to breastfeeding practices – all the links are below today's post.
My ire with the top half of the card is due in one part to the leap it takes in justifying their opinion on how parents should "parent".  A commentary in a journal does not represent the whole organization.  Secondly, based on the anecdotal experiences of  our students: "one size fits all" parenting is unrealistic.  Just because it is "peaceful" doesn't make it fundamentally right for all families; just as being found in a published book doesn't make ideas fundamentally correct and unquestionable.
I can support the second half of the card.  As a believer in baby-led feeding, I absolutely nurse and have nursed our children when they show the initial signs of hunger, and these are outlined in the AAP Breastfeeding Policy statement, ©2003, Rev 2005:
Rooting
Fist to mouth
Early Arousal
The AAP recommended breastfeeding practice specifically states that, "Crying is a late hunger sign". If you have been reading my posts, you know I am not a fan of
crying it out
, either.  I propose that neither PDF or crying it out follows the signals put in place by Mother Nature for a mother to respond to her baby.  And as Dr. Bradley used to say, "It's not nice to fool Mother Nature".  But – but – but – these beliefs and choices work for me. 
As an instructor of The Bradley Method®, I advocate for natural birth, and as an extension, other natural living choices.  However, I am a firm believer that whatever the situation or topic, it's up to every family to choose what is right for them.  Our mantra to every parent is to make the decisions that lead to a Healthy Mom, Healthy Baby outcome - at birth and beyond.
I have the luxury of living for my children since I have a phenomenal support system.  Nursing and wearing my children in a carrier, as they need to be and want to be, works for me.  My husband bought into the concept of exclusively breastfeeding thanks to our first Bradley Method® instructors presentation on the advantages of breastfeeding; he has always helped in the ways he can to support our choice to breastfeed.  We also noticed that our babies, when close to me, are much happier when awake and sleep longer when they are against my chest.  Bruss' work affords us a housekeeper so I can focus on the children's needs and not our home.  We have lots of other help from family and friends – so living to breastfeed and wear our children works for me.
While I am happy to hear that other moms can live for their babies like I do, I know that this doesn't work for everyone.  And that is okay!  Each family needs to work out a system that works for their parameters.
For example... what about the family that has to do chores?  Or the mom whose husband doesn't help to make the breastfeeding relationship an easy one?  Or maybe the people around mom are unsympathetic to the trials and tribulations of the bf learning curve - even with subsequent children, each relationship is unique.  Consider the mom who has to or wants to work outside of the home.  These moms may have to make different choices.  If a mom needs to choose her sanity or her sleep, some kind of schedule is a survival mechanism for her. 
I cannot support Ezzo's assertion that a baby's night feedings are trained out after 8 weeks of age.  However, as Dr. Bucknam points out, a mom that is sleep-deprived needs to sleep in the interest of her long-term health.  From my email exchanges with Dr. Christina Smillie, I have learned that the respectful quantifier is "appropriate developmental age…so here goes:
A mom that needs her sleep might consider working with her baby to sleep longer when baby is at an appropriate developmental age.  This allows mom to rest so she can function as mom and milk-supplier at home, and still fulfill her duties to her work outside of the home.
So parents – I ask you to trust your instincts.  A child that receives love, food and sleep is likely to thrive.  What works for you when it comes to feeding you child, or in regards to other childhood topics?  Have you researched your choice so that you know the pros and cons?  Are you comfortable with that decision or do you need to research some more? You are the final arbiter between what works for your family – you get to choose what the best approach is for you. 
No one else knows your baby and your situation like you do.  When it comes to "experts" telling you what to do, I offer the La Leche League idea: Treat it as a buffet – put the ideas you like or what you think might work for you on your plate, and leave the rest of the ideas on the table.
How have you negotiated the sleep-feeding cycle with your child(ren)?  
Link List:
The card designer is quoting this article published in the Commentary section of Vol. 14 No. 4 April 1, 1998, pp. 21:
and another blog post on the subject:
And here is the position paper written refuting the claim that all pediatricians are opposed to Babywise written by the co-author of On Becoming Babywise:
What the AAP Statement organization actually says:
Disclaimer: 

The material included on this site is for informational purposes only.
It is not intended nor implied to be a substitute for professional medical advice. The reader should always consult her or his healthcare provider to determine the appropriateness of the information for their own situation.  Krystyna and Bruss Bowman and Bowman House, LLC accept no liability for the content of this site, or for the consequences of any actions taken on the basis of the information provided.  This blog contains information about our classes available in Chandler, AZ and Payson, AZ and is not the official website of The Bradley Method®. The views contained on this blog do not necessarily reflect those of The Bradley Method® or the American Academy of Husband-Coached Childbirth®.
Categories: Breastfeeding, Fussy baby, Informed Consent, Parenting
/