...celebrating every swee​t pea their birth
| | |
| --- | --- |
| Posted on April 10, 2012 at 10:17 PM | |
We had a simple question come up in class last night that we have never been asked before…usually we get to the material before hand and the question answers itself.  Since the mama asked it though, I figured that a good topic for today's post is a written answer to her question.
The topic of last evening's class was "Introduction to Second Stage Labor".  This is the point in The Bradley Method® class series when we introduce the labor stage of
transition
, second stage, and then the basics of pushing in regards to breath and positions.
Question:  What do I do if I have the urge to push but my care provider tells me it's not time to push?
Answer:  You won't know if it's time to push unless you confirm that your body is ready.  There are several things you can do to keep from pushing if the time isn't right. 
Reasons why we have encountered that you shouldn't push:
You are not completely dilated – pushing against a cervix that is between baby and the vaginal outlet can cause the cervix to swell, possibly leading you to go down a different path toward the birth.
You are not completely effaced – also called the "lip of cervix". The danger in this situation is catching the cervix between the vaginal wall and the baby's body, possibly tearing the cervix.
In a hospital setting: Your care provider isn't there yet and the nurse doesn't want to catch the baby.
What you can do to keep yourself from pushing:

Keep your chin off your chest.
  Pinning your chin to your chest is a great way to trap air and put more power behind your diaphragm.  Great for pushing – not so great if you want to keep baby in.  So look up at the ceiling, sing, talk, tell a joke – do something that keeps your mind off the urge to push.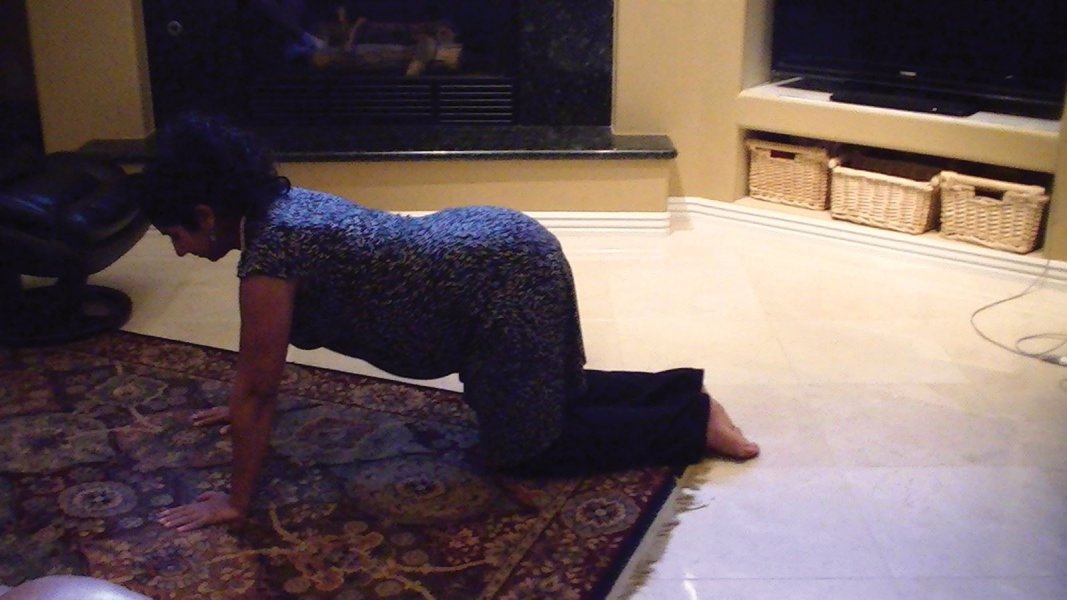 Get on your hands and knees.
  Other supported flat back and knee position that keeps some of the pressure off of the anus and tells your body that it's time to push might work too.  You can put some pillows under your chest; or if you are in the hospital, raise the head of the bed and lean against that.  This can also be an effective pushing position when mom arches her back, so no guarantees on this one.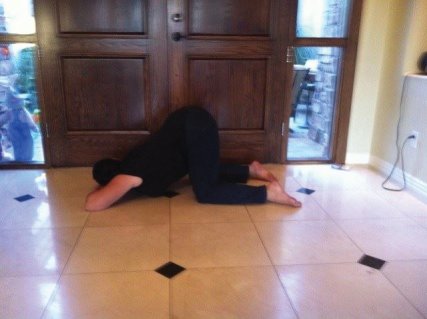 Get lower to a shoulder to knee position.
  This moves the baby's head off the cervix using gravity, and you can do this as long as it's comfortable for mom and baby doesn't react negatively.  Reading up on it for today's post, it is not recommended in late labor, so if you are going to do this, think about doing it under supervision and with monitoring.  It is noted to help relieve pressure if the cervix is already starting to swell and you can take a few contractions in this position to see if it helps with the swelling.  If it does, then you can probably go back and do the upright labor positions.
I strongly urge you to read more about this position before you go into labor - it is useful in many situations when used appropriately.  There are three links listed at the end of this post.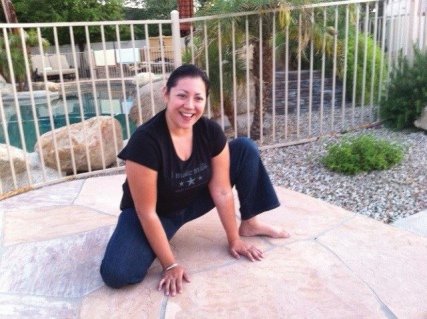 Do an asymmetrical squat for a few contractions.
  We used this position with great success to get rid of a lip of cervix.  We did it right up on the hospital bed, supported by a squat bar. (If only I knew then that I would be writing about childbirth in the future...I would have let someone take a picture!)  If you don't feel comfortable doing this on your knees, you can do it on the side of a bed or use a chair.  It will let you keep one foot on the ground while you lean into the raised leg, imitating the position without putting extra weight on the knees.  Last note on this - if leaning into one side doesn't feel comfortable, switch the knees up/down and try the other side.
I will end with this cautionary statement: if you are having an undeniable urge to push, it's advisable to find a care provider to check your dilation before you start pushing.  The last thing you want to happen is to push against a cervix that isn't dilated and cause swelling.
Hire a care provider you trust so that if and when they tell you not to push, you believe them and you do what you need to do.  They may have other ideas that will work - these are just the ones we share in class.  And when it is time to push, get ready, because you are about to enjoy one of the sweetest rewards for hard work – holding your sweet baby!
A little anecdote:  It is not always necessary to check dilation before you push; however it's important to know the possible consequences of doing so.  Since I am an experienced birth mama, my midwife let me push without checking my dilation.  She did ask me if I felt any pinching, and since I did not she went ahead and let me push.  I share this not because I want moms to push without being checked, but to illustrate the point of hiring a care provider you trust.  We have had one student start to push without being checked (nurse didn't believe that she was ready), and she ended up with a swollen cervix that led to other choices down the line.
Read more about the open knee – chest position:
Disclaimer: 
The material included on this site is for informational purposes only.
It is not intended nor implied to be a substitute for professional medical advice. The reader should always consult her or his healthcare provider to determine the appropriateness of the information for their own situation.  Krystyna and Bruss Bowman and Bowman House, LLC accept no liability for the content of this site, or for the consequences of any actions taken on the basis of the information provided.  This blog contains information about our classes available in Chandler, AZ and Payson, AZ and is not the official website of The Bradley Method®. The views contained on this blog do not necessarily reflect those of The Bradley Method® or the American Academy of Husband-Coached Childbirth®.
Categories: Homebirth, Hospital Birth, natural labor coping mechanisms, Natural labor coping techniques, Second Stage Labor, The Bradley Method®, The Bradley Method® classes, Transition
/