...celebrating every swee​t pea their birth
| | |
| --- | --- |
| Posted on November 27, 2015 at 4:39 PM | |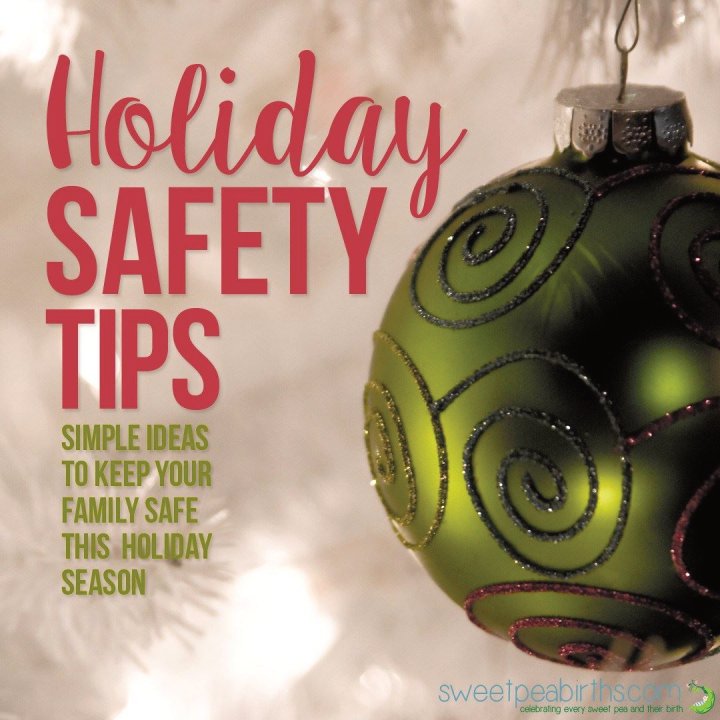 This was first published in 2011 - sharing it again today since the holiday safety tips are still relevant.  Click HERE if you would rather watch the VLOG instead of reading this post
:)
It's the most wonderful time of the year…
It is such a gift to enjoy this season with our children.  They are filled with wonder at the sight of our Christmas tree.  They love to look at the ornaments, especially the ones with their pictures in them.  They are so excited about Santa and presents and at the top of the list, the family coming to visit them from all across the country.
This year is especially poignant – like us, our older two children recognize that this Otter's first Christmas.  They wonder what she is thinking as she sees the activity, and they are telling her all about the family that she will be meeting for the first time.
No matter what your faith, I encourage you to take the time out of the hustle and bustle, the imposed rush of the season, to slow down and enjoy this time of year with your children.  The root of the word holiday is "holy day"; so if your faith tradition has a holiday this month, strive to make that the central focus instead of the commercialism of the season.
Get down on the floor with your children and look up at the decorations you have put up in your home.  Tell your children the significance and why these symbols are important to you.  Take the time to tell them about their first holidays in your family.  If this is your first holiday with your child, tell them your favorite childhood holiday memory – you can keep this tradition going as they get older.  Even if you have an infant, know that they hear you and that you are imprinting their mind.  Though they may not have a conscious memory, you are helping to plant their roots that bind you together long after they have children of their own.
The season will be much more enjoyable if you take some common sense precautions.  I wish you all a holiday away from the emergency room or urgent care.  Here are the usual tips with my modificaitons for families with mobile infants and toddlers.  I am ever mindful that we now have students who are parents to curious, mobile and walking one-year olds!
- Use ornaments that are not fragile, easily breakable, or that present choking hazards.  This is not the time to break out your heirloom decorations.  Although they may not be as elegant, use adornments that can survive a bounce and that won't shatter and cut your child's skin.  Also keep in mind this tip: if it can fit through an empty tube of toilet paper, it's a choking hazard.
We found some lovely, larger ornaments at IKEA that are pretty, as well as safe and functional.  Until our youngest children loose the fondness for touching all the moving parts (most of which break off and fit through that tube of t.p.), my collector series ornaments are safely stored for a few more seasons.
Speaking of choking hazards, watch out for small gift bows, packing peanuts and other packaging materials like twist ties and loose pieces of tape.  Wrapping paper, ribbons and bows can also be a suffocation hazard.
- Hang string lighting and place candles where little hands won't be able to reach.  This seems self-explanatory.  Remember that children are extremely curious and very creative – think about how motivated they are to reach what you are setting out, and make sure that you have lights and candles out of the reach of a "stacking things so I can climb" child.  A note about candles: their fragrance may be overwhelming for underdeveloped senses.  The chemicals used to create that fragrance are not regulated, which is another reason we personally keep "the stink" out. We have no idea what is really causing that odor and whether or not it's good for us.  Flameless candles are easily found these days – they are a great way to create ambience, thereby passing on the chemical or fire hazard component.
- Check your electrical outlets and cords.  Parents usually keep outlets covered with safety caps.  During this time of year, you may pull them out to put in cords for string lighting.  Make sure that you are aware of your children around all the extra cords and open outlets.  Place the strings high enough so they don't go in their mouths.  Depending on how mobile and/or curious they are, they may try to pull out the cords from the socket, which can also be an electrocution risk.
-
Keep poisonous plants out of reach.
  Speaking of mouths…colorful plants might be a temptation to your child.  After a cursory look at
THIS LIST
 of plants, a rash or an upset stomach seem to be the main symptoms.  Given a child's smaller size and the fact that each person's reaction is individual and varied, it's probably best not to take any chances.
- The force of gravity does not take a vacation.   Evaluate your space and see where the safest places are for your decorations and furniture so that your children will not run into them in the normal course of their day.  If you rearrange furniture to accommodate decorations, make sure that the pieces are not a tip-over hazard in their new location. If you move side tables, watch their placement and don't put anything to heavy or unstable on top of them.  If you move larger furniture, make sure it is steady in its new position.  If you put up a Christmas tree, it can also be a tip-over hazard.  You can secure it to a wall with an eye-hook and twine, or block it off with a safety gate.
Hot, hot, hot – hot chocolate.  I couldn't resist the reference to the Polar Express!  Slow down and be aware in the kitchen.  Accidents happen - burns and spills happen when we are rushing and when the kitchen is full of people.  Take your time preparing and moving hot foods and liquids.   Be very aware of where your children are, or maybe you can assign someone else to entertain them outside of the kitchen if you are in charge of your holiday meal. 
Along the same lines, children don't know that tablecloths aren't stationary – all they see is something on which they can pull up.  The next thing you may hear is the crash of china and silver, or the screams of pain if they are burned by food placed on top of the tablecloth or an overhanging runner on a sideboard buffet.  You may want to skip on the tablecloths and runners and use placemats and doilies for the time being.  They will grow up and you will deck out your holiday table again some day.
I close with this thought today:  you may have seen our past posts about
pregnancy
and
child loss
.  As much as holidays are a time of joy, they are also a time of amplified sorrow for families grieving the passing of a loved one.  I invite you to take some time this season to say a prayer for those families that have lost a loved one this year, especially those whom have had their children called to the next journey.  Their loss is ever present as they watch other families enjoy the holidays and wonder what place their child may have played in their own holiday traditions.
From our home to yours, may you have a safe, blessed and joyous holiday season!
Do you have any holiday safety tips to share – what are they?
Disclaimer: 

The material included on this site is for informational purposes only.
It is not intended nor implied to be a substitute for professional medical advice. The reader should always consult her or his healthcare provider to determine the appropriateness of the information for their own situation. This blog contains information about our classes available in Chandler, AZ and Payson, AZ and is not the official website of The Bradley Method®. The views contained on this blog do not necessarily reflect those of The Bradley Method® or the American Academy of Husband-Coached Childbirth®.
We are now enrolling for

our Spring Series
March 11, 2016 to

June 3, 2016
For more information

or to register,

please call us at

602-684-6567

Categories: Avoiding harmful substances, Childcare, Information Center, Newborn Care, Parenting, Toxins, pesticides, chemicals and pregnancy
/