...celebrating every swee​t pea their birth
| | |
| --- | --- |
| Posted on June 5, 2012 at 12:33 PM | |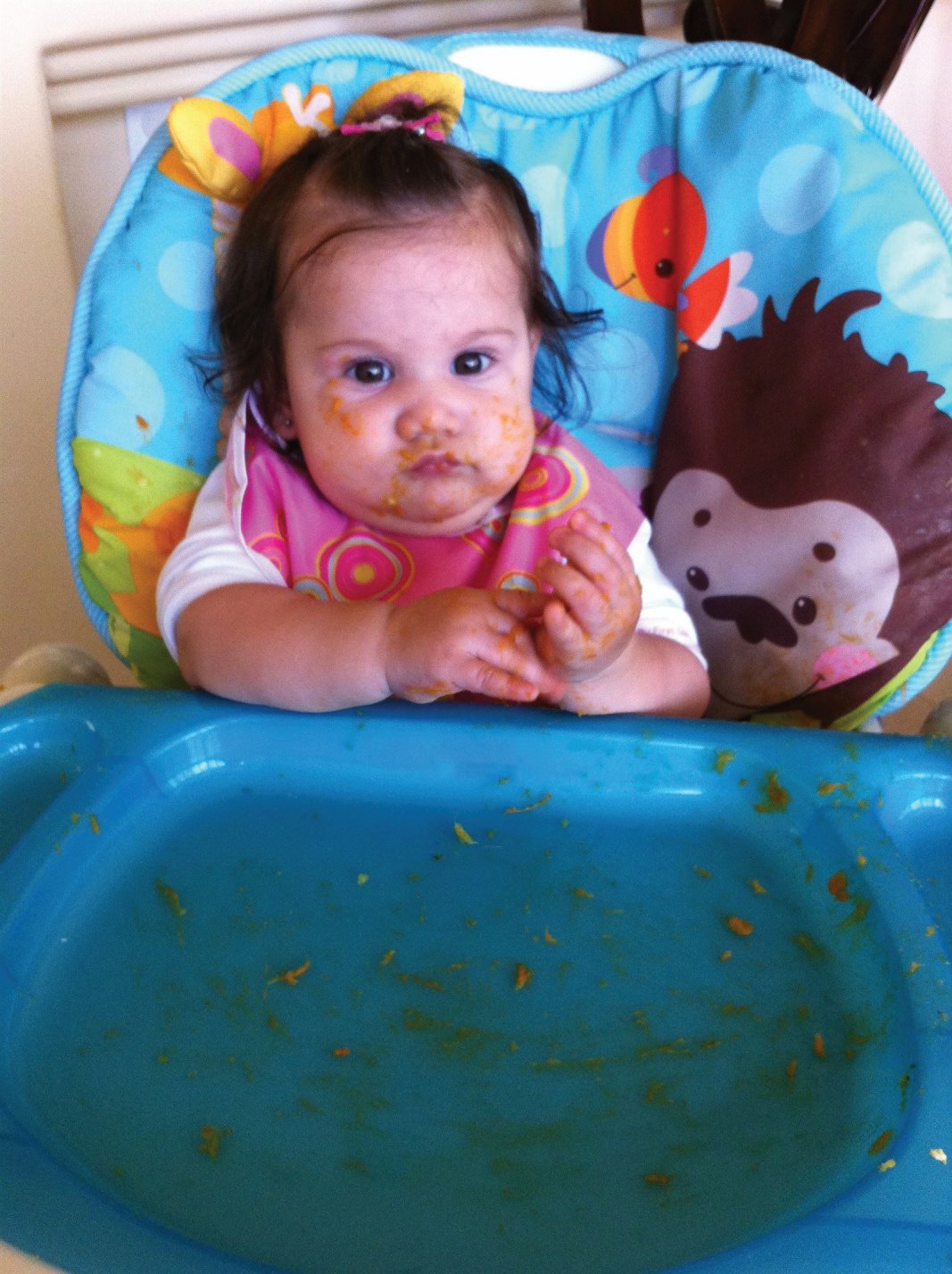 Here is the second installment of introducing solids with our 8-month old.  She is our fourth child, so we are trying to apply the lessons we have learned with our previous children.  Additionally, I want to remind our readers that this is a snapshot into our family's process since I have had many students ask about how we approach introducing solids.  This is not medical advice, nor is it based on any expert advice – this is purely anecdotal.   
Here is the first installment on introducing solids (
read more
).  Moving on to what we have done since then…   
Angelika's bowel movements stayed along what we would expect to see (bowel movements in the morning), so we kept feeding her solids since our previous post.  We only had one day with no bowel movements, and we cut back on the solid food the next day, but that is about it.  All her "plumbing" seems to be working, so we are continuing to feed her a little food every day.   
Vegetables: We continued with yams and sweet potatoes, and added some regular potato to the mix.  She made a face when we gave her regular potatoes…not as sweet, I guess.  We are still giving her small, squishy-soft pieces.  They are about the size of a pinto bean when I cut them up.   
Fruit: I also tried a little avocado to start working in some "green" food.  She liked that and lunged at the next pieces I offered her.  I gave it to her during lunch last Thursday – since there were no adverse effects, I will try a little more this week.   
We have a peach tree in our backyard and I gave her fresh peaches on Saturday and Monday.  She LOVES those.  She would eat everything I put on her tray – very little of this food gets played with – the solid parts all make it into her mouth!  The juice is still everywhere, though.    
Munchies: We also have a little "snack" food for her.  A friend of ours introduced us to gluten-free Veggie Straws.  We buy ours at Costco – the base is potato starch, and they are flavored with spinach and tomato.  They dissolve in her mouth, so she can gnaw on them without the danger of choking on them. She gets five or six at a time…and like the other food, she mostly plays with it and some makes it into her mouth.   
The veggie straws are technically a "junk food" – there is no nutritional value, however, I can recognize and pronounce all the ingredients, which is important to me.  It is also free from sweeteners: no sugar, no corn syrup, and it's soy-free.   
They work for now and I will use them for what they are – a tool to let me prepare food for the rest of the family.  Since I do not babywear around heat (the stove or the microwave), giving her something interesting buys us some time to work in the kitchen while she is sitting in her high chair safely away from heating elements.   
There are a couple of whole-foods I will give her to gnaw on while I am preparing food.  They are large in size and since baby cannot bite pieces off yet, and the large size minimizes them as a choking hazard.  One is a raw, peeled, whole carrot.  I also offer her a halved, peeled apple.  While she can't "eat" them, she can enjoy sucking the flavor out of both of those foods.    
So, in summary, we have introduced four vegetables (sweet potato, yam, potato, carrot as a teething aid) and three fruits (avocado, peach, apple as a teething aid).  I did introduce two fruits last week, against the commonplace advice to introduce one at a time and to allow a week for "reaction time" to check for allergies.  I don't count the spinach and tomato in the veggie straws since there is no nutritional value, there is not enough content to count as a "food" in my estimation.    
My plan is to continue with the same foods for this week, confirm that the plumbing is still working, and then introduce another fruit and another vegetable next week.  All in all, I like this approach to feeding without using baby cereal.  I like that I can pronounce all the ingredients in the food we are feeding her, and I know what the ingredients are without having to look them up on the internet dictionaries.  
It is not as fun for her siblings since they cannot spoon-feed her, however, I am okay with that trade-off.  Before we know it, Angelika will be a year old and they can start feeding her yogurt if she will let them.   
What do you think?  What is your strategy for transitioning from liquid food to solid food?   
 In case you are curious - for now our feeding schedule looks like this: 
 6:00 am – wake-up – breastmilk 
 7:00 am – water cup used as a teether (she has never taken a pacifier!) in the high chair while we get breakfast for the older kiddos.  
 ?? time – depends on our schedule – Breastfeed 
 10:00 am – water cup except now we are preparing a snack 
 ?? time – depends on our schedule – Breastfeed 
 11:30 am – "food" time – fruit, some vegetable 
 ?? time – depends on our schedule – Breastfeed 
 3:00 pm – water cup as we prepare snack, some veggie straws 
 ?? time – depends on our schedule – Breastfeed 
 6:00 pm – water cup and veggies as we prepare/eat our dinner 
 7:30 – 8:00 pm – Breastfeed before going to sleep for the night   
As you can see, I am still nursing her between every time we are serving food to her siblings.  She usually goes 2-3 hours between nursing sessions – it depends on what we are doing that day.    
I can also tell that she is nursing more efficiently – she usually only nurses for about 5-10 minutes, and then she is ready to rock and roll with her siblings.  The only time she lingers at the breast is at sleep-time.  She is still taking a mini-nap in the morning and in the afternoon.  At bedtime, there is no rush off of the breast since I have changed my sleep times to accommodate her schedule; we both pass out at the night feed.    
Angelika is also nursing through the night again.  She had been sleeping through the night; I am not sure when that changed, but I will wake up at night to find her nursing.  I am nursing her around 2:00 am, at 4:00 am, and again for wake-up between 6:00 and 6:30 am.  I seem to remember that this is a typical shift for us – when our older children got more mobile, they had less interest in nursing during the day and did more feeding through the night.  
Disclaimer:  
The material included on this site is for informational purposes only.
It is not intended nor implied to be a substitute for professional medical advice. The reader should always consult her or his healthcare provider to determine the appropriateness of the information for their own situation.  Krystyna and Bruss Bowman and Bowman House, LLC accept no liability for the content of this site, or for the consequences of any actions taken on the basis of the information provided.  This blog contains information about our classes available in Chandler, AZ and Payson, AZ and is not the official website of The Bradley Method®. The views contained on this blog do not necessarily reflect those of The Bradley Method® or the American Academy of Husband-Coached Childbirth®. 
Categories: Starting Solids
/