Shopping Cart
Your Cart is Empty
There was an error with PayPal
Click here to try again
Thank you for your business!
You should be receiving an order confirmation from Paypal shortly.
Exit Shopping Cart
...celebrating every swee​t pea their birth
| | |
| --- | --- |
| Posted on October 12, 2012 at 8:02 AM | |
Another group is calling for a week of recognition – this time it's the American College of Nurse-Midwives.  October 7-13, 2012 is National Midwifery Week "...created by ACNM to celebrate and recognize our members."  Read more about their organization
HERE
.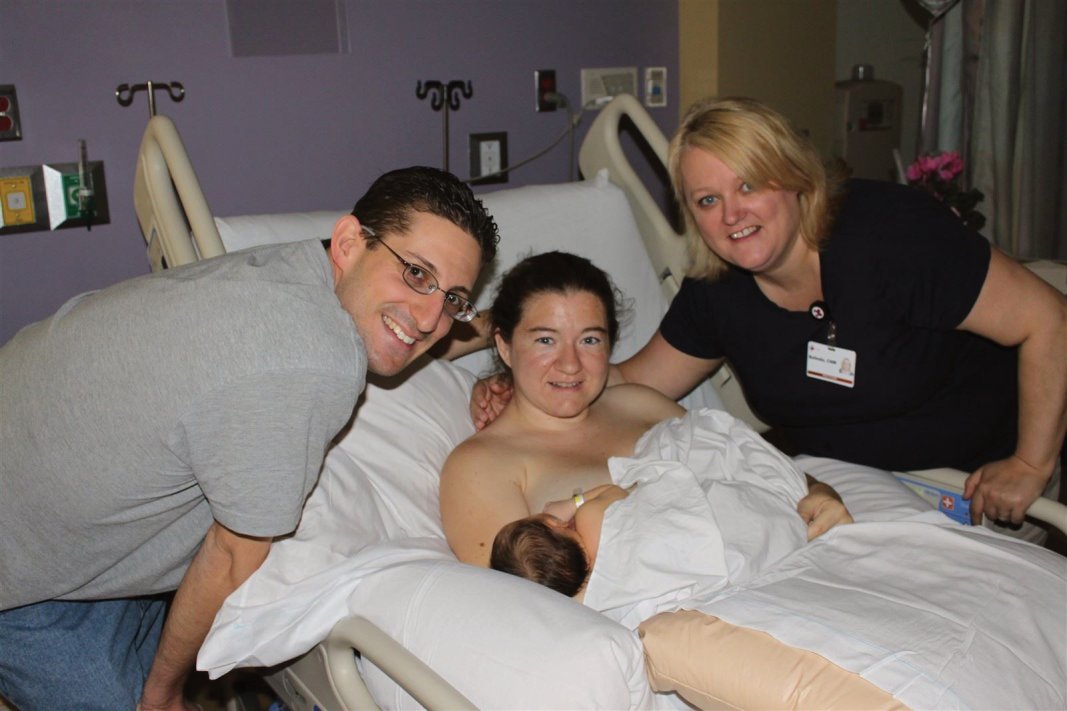 I am happy to participate in their campaign to bring the awareness of midwifery care to a larger audience.  We had an epiphany when we experienced midwifery care, and we are delighted to see many of our students making the choice to have midwifery care for their pregnancies and births.
As part of the awareness campaign, visitors to the website were asked to write and De-bunk a Midwifery Myth.  Here is the one I chose:
Midwives only attend births at home.
FALSE

When we were pregnant with our first baby in 2004, we started care with my gynecologist, because, after all, wasn't the other part of her title " obstetrician"?  I thought I wanted a homebirth, but that wasn't going to happen because in the U.S., as a general rule doctors do not deliver babies at home.
We proceeded to have baby#2 and baby#3 with the same OB/GYN group.  When it came time to deliver, we had to take the chance that the doctor on call was going to respect our wishes to have an un-managed, unmedicated, and vaginal birth.  Thankfully, we only really had to advocate for our choices once, and that was our first birth.  Thereafter, we got the reputation for being "that" couple that had big babies without pain medication.
Had we known then what we know now, we may have chosen to have hospital births with midwives.  Yes – they work in the hospital, too!
Certified Nurse-Midwives ("CNM") are professional health care providers.  They are a mix of medical and natural,, since most of them are registered nurses, and they also have a philosophy of care that respects and works with the natural process.  They can work as a CNM after passing a national certification exam, and they must meet the requirements set by their state health agencies.  They are available to counsel women through all phases of their reproductive health, from wellness, preconception, pregnancy, family planning, annual exams and menopause.
In regards to pregnancy, CNMs work within a paradigm where pregnancy is healthy, birth is normal, and Mother Nature is allowed to work until there are clear signs that other decisions need to be made.  They work within an evidence-based model, which means that there is a "conscientious, explicit and judicious use of current best evidence in making decisions about the care of individual patients." [1]  If and when their patient's needs goes beyond their scope of practice, they have an established relationship with an obstetrician who can come in for consultation or transfer of care.
For families who are not ready to make the move to a home birth, a certified nurse-midwife that works within the hospital model or at a free-standing birth center may be an option to explore.  Families that know they want more personalized and individualized care where they are treated as healthy pregnant women may think that midwives are a good choice.  Instead of a treating a pregnant woman like patient who has to prove they are healthy because they are expected to be sick and needing treatment for their "condition" of pregnancy, midwives take the time to get to know the woman, her history and a trust is established that has a different tenor than the patient/doctor relationship.
Now, not all obstetricians treat their patients like they are sick, and not all midwives come with sunshine and rainbows.  However, if you are sure that you want a birth with as few interventions as possible, it is a good idea to look for the care provider that is going to support your choice not just with their words; they also need to show that they believe in natural birth with their actions and their patient outcomes.
If you are looking for some options in the Phoenix area, here are some midwifery practices other Bradley™ students have used:
And new to the East Valley – we have our first student receiving care from this group in our Fall 2012 class:
What are your thoughts on midwifery care?
Link List:
http://www.midwife.org/National-Midwifery-Week
[1] http://www.ncbi.nlm.nih.gov/pmc/articles/PMC2349778/pdf/bmj00524-0009.pdf
http://www.valleywomenforwomen.com/midwives
http://drkells.com/index.html
http://www.bethanywomen.com/  
http://www.stjosephs-phx.org/Medical_Services/Center_for_Womens_Health/195830
http://www.midwifephoenix.com/index.htm
http://momdocmidwives.com/
Disclaimer: 

The material included on this site is for informational purposes only.
It is not intended nor implied to be a substitute for professional medical advice. The reader should always consult her or his healthcare provider to determine the appropriateness of the information for their own situation.  Krystyna and Bruss Bowman and Bowman House, LLC accept no liability for the content of this site, or for the consequences of any actions taken on the basis of the information provided.  This blog contains information about our classes available in Chandler, AZ and Payson, AZ and is not the official website of The Bradley Method®. The views contained on this blog do not necessarily reflect those of The Bradley Method® or the American Academy of Husband-Coached Childbirth®.




Categories: Hospital Birth, Midwife, Midwifery Care

0

/