Shopping Cart
Your Cart is Empty
There was an error with PayPal
Click here to try again
Thank you for your business!
You should be receiving an order confirmation from Paypal shortly.
Exit Shopping Cart
...celebrating every swee​t pea their birth
| | |
| --- | --- |
| Posted on December 28, 2012 at 3:25 PM | |
As part of The Bradley Method® coursework, we discuss the advantages of breastfeeding and try to dispel some of the breastfeeding myths so that a family that has made the choice to breastfeed can be confident in their choice.  We also encourage all of our couples to attend at least two La Leche League meetings.  
We had our first introduction to the advantages of breastfeeding in last week's Bradley Method® class (
HERE
is a great list of 101 Reasons to Breastfeed).   After going through a few of the advantages for a baby and the mother, one of the dads brought up a great question:
"Given the advantages of breastfeeding, why would anyone choose to formula feed?"
That is not an easy answer.  Lots of toes get stepped on and many feelings get hurt.
I think the answer starts to be revealed when you look at the advertising tactics used by formula companies.  It starts with the insidious question, "Is your baby getting enough?"  No parent would want to deny his or her child food.  Especially a hungry, crying infant – that would be neglectful.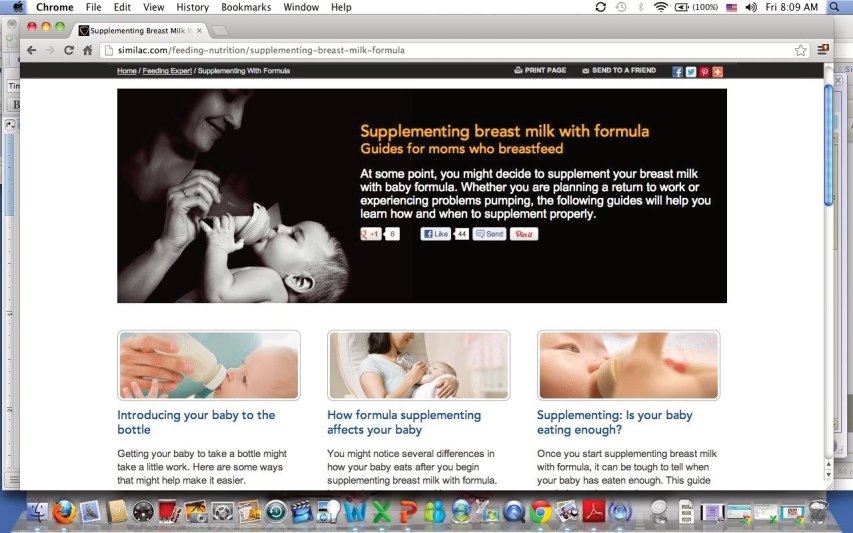 (P.S. The answer is call an IBCLC, CLE, or La Leche League leader

as soon as possible - they can do an evaluation to help mombaby

get their breastfeeding on track, even with  rocky start.)
How about, "Is your baby getting his or her nutritional needs met?"  No parent would want to deprive his or her baby from getting the best nutrients from getting the best food to grow their body or their brain.  That would be careless.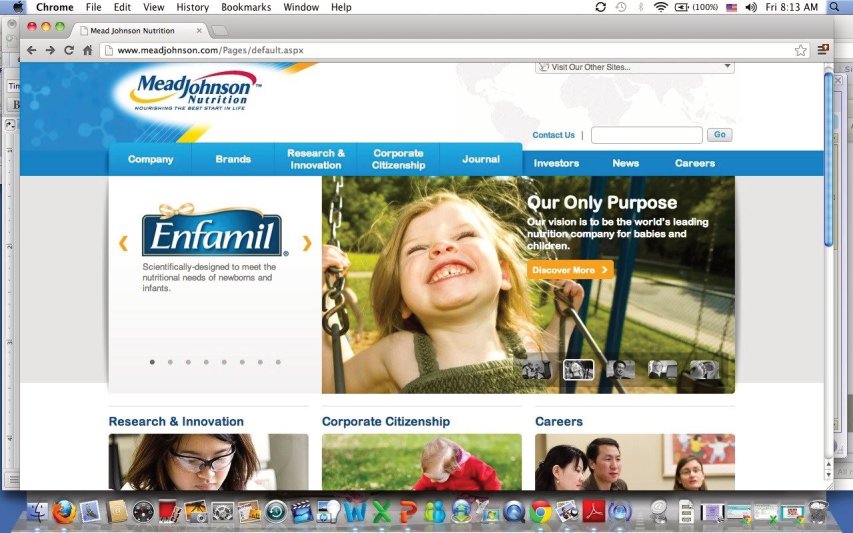 (P.S. the answer is yes - some moms exclusively breastfeed for much longer than six months and their babies are thriving.)
Then there is this one, "Are you doing everything you can to ensure your child's future success?"  Because no parent would want to stand in the way of his or her child's physical or cognitive development.  That would be mistreatment.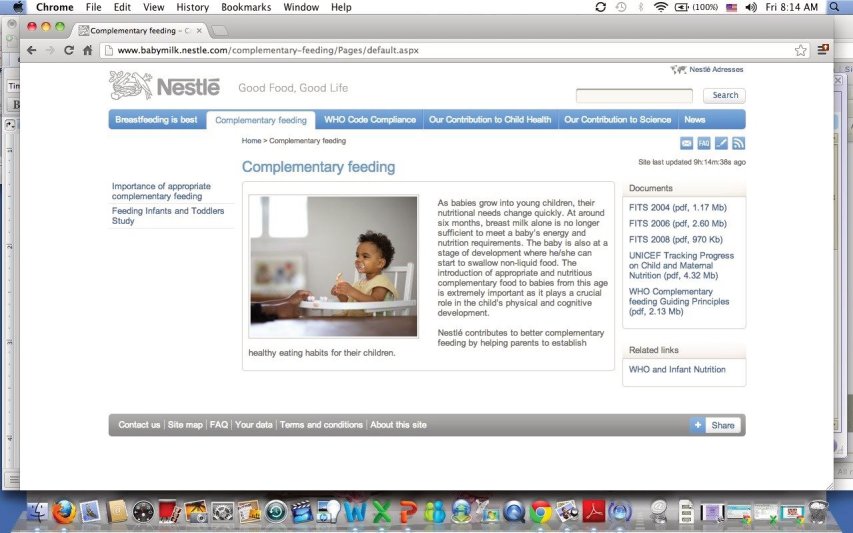 (P.S. The answer is breastfeeding is much more than milk - it helps develop muscoloskeletal structures and cognitive abilities, as well as providing nutrition for your baby.)
And so it begins.  The little hints that maybe your breastmilk may not be enough for your baby.  The implication is that science is better than your body at feeding your baby.

The reality is that NO SCIENCE has been able to duplicate your amazing ability to produce milk for your child.  We make unique milk for a unique species.  It is a live fluid that adjusts and develops to meet your child's changing needs, and scientists can't quite figure out how that happens. 
HERE
is a list of the ingredients found in breastmilk versus the ingredients provided by formula. 
Quite a difference, isn't there?  It is a stark reality check to the mother that makes the choice to formula-feed when she is capable of making milk.  We trust what we read in advertising, because after all, they would not lie to us.  Right?
So, what are valid reasons to feed your child formula?  At what point can a parent choose to feed formula and use it as a tool without feeling guilty?
Here are some circumstances in which formula is a great tool, used appropriately:
Baby is not producing wet diapers by 4-6 days after birth (read more HERE from Dr. Sears)
Baby has not gained weight in three consecutive months (considered Failure To Thrive)
Mother is unable to breastfeed due to a medication she is taking or treatment she is receiving (Find out more about that HERE)
Mother is unable or unavailable to provide breastmilk. 
What do I mean by that last statement?  For example: When birth is traumatic, the body has to work to heal the mother first.  Once her life is preserved, in some circumstances, her body can be coaxed to produce milk.  And sometimes the mother doesn't make it – and her baby does.  Then it would be cruel to keep the child from the food that will support their life.  In both of these cases, formula is absolutely a tool that is used appropriately.
Here is another graphic that I like because it offers options that people have not been taught about.  Talking about those options starts to make them viable: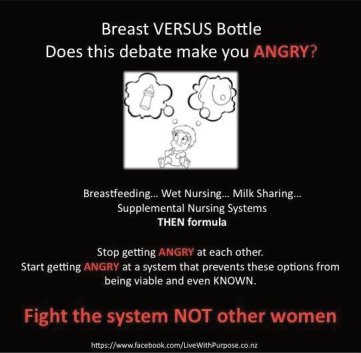 Formula was born of a need to feed babies whose mothers were no longer available to feed them after the ravages of war – it was developed to be used as a tool in extreme situations.  The real story about today's overuse and a replacement for mother's milk is tied to lot of reasons: perceptions of convenience, freedom and the corporate bottom line.  It's not a pretty story, and it's not fun to talk about.  As a matter of fact, it's probably one of the best ways to blow-up a conversation on social media.
It is important to talk about formula versus breastfeeding, talk about the options, and make sure we are doing our very best to educate new parents about the realities of formula and what to behaviors to expect from their newborn.  What behaviors are tied to a newborn adjusting to life outside the womb, and when is a newborn failing to thrive?
Formula is a great tool when it is used appropriately, and it can be life saving, an outcome I cannot argue with.  If you are one of those moms who used formula as a tool, cut yourself some slack.  You did what you had to.
However, knowing the difference between "necessary tool" and when it is used because a parent's natural instincts are undermined by insidious questions has to be a priority.  As a society interested in sustainability, it is in our best interest to ensure that babies are being fed by confident mothers who are impervious to the seeds of doubt planted by formula companies.
LINK LIST
101 Reasons to Breastfeed
http://www.notmilk.com/101.html
Ingredients in Breastmilk and Formula Comparison Chart
http://www.bcbabyfriendly.ca/whatsinbreastmilkposter.pdf
Dr. Sears: How to Tell if Your Baby is Getting Enough
http://www.askdrsears.com/topics/breastfeeding/faqs/getting-enough-milk-how-tell
Definition: Failure to Thrive
http://www.healthofchildren.com/E-F/Failure-to-Thrive.html
Infant Risk Center
http://www.infantrisk.com/
Disclaimer: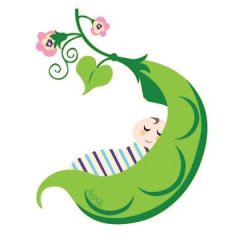 The material included on this site is for informational purposes only.  It is not intended nor implied to be a substitute for professional medical advice. The reader should always consult her or his healthcare provider to determine the appropriateness of the information for their own situation.

Krystyna and Bruss Bowman and Bowman House, LLC accept no liability for the content of this site, or for the consequences of any actions taken on the basis of the information provided.

This blog contains information about our classes available in Chandler, AZ and Payson, AZ and is not the official website of The Bradley Method®. The views contained on this blog do not necessarily reflect those of The Bradley Method® or the American Academy of Husband-Coached Childbirth®.




Categories: Breastfeeding, Breastfeeding support

0

/