...celebrating every swee​t pea their birth
| | |
| --- | --- |
| Posted on October 20, 2015 at 7:18 AM | |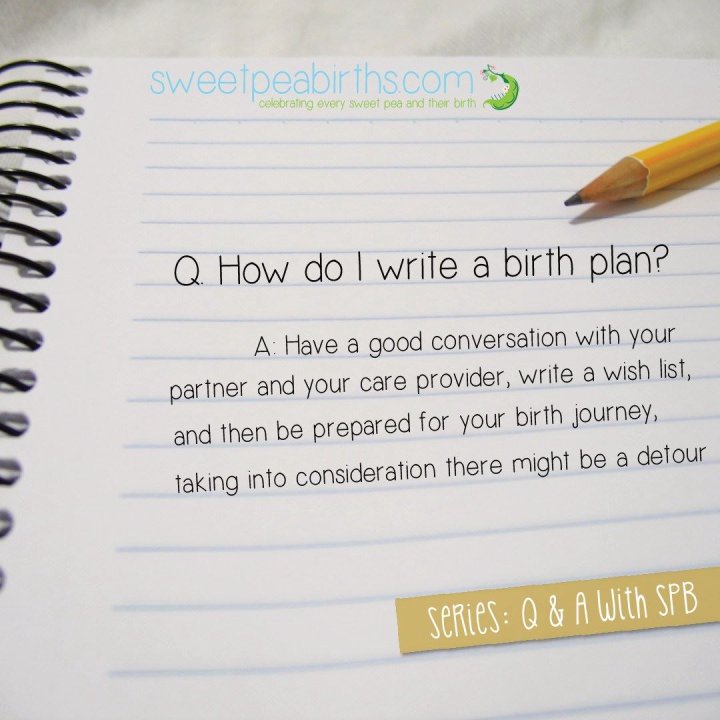 Q: How do I write a birth plan?
A: Have a good conversation with your partner and your care provider, write down a wish list, and then be prepared for your birth journey, taking into consideration there might be a detour or two!
Here are the basics of what we share with our students:
1. EXAMINE YOUR FEELINGS
What is important to you?
What would you be willing to compromise?
What are your absolutes?
2. CONSIDER YOUR PRIORITIES
List your choices in order - Mother ranks hers, Coach/Birth Partner ranks theirs, and then compare notes and arrive at some sort of compromise.
3. EVALUATE YOUR SITUATION
Are your choices realistic given yoru choice of birth setting?
Does your birth team support your wishes?
If you find yourself wanting to make changes in birth setting or care provider, what are your options?
4. MEET WITH YOUR CARE TEAM
Ask for etra time during the "birth plan" appointment.
Bring a draft of your wish list to get their input, and listen with an open mind and a grain of salt - more on that below.
5. PREPARE FOR A POSITIVE EXPERIENCE
Those two things are the foundation for the possibility of a low-risk labor. Add in
daily meditation
for a good measure of positive energy for your upcoming birth journey.
6. BE FLEXIBLE
Bruss's mantra: "You are the birth that you bring with you."  Consider going into your birth journey with the idea that something is going to surprise you, something will disappoint you, and at the end of the day, transform you into the parent you need to be for your child.
Consider this: what is more important - sticking to your plan at all costs? Or, surrending to the birth journey, wherever it may lead you, and discovering something new about yourself? For the birth journey is an initiation of sorts; however it happens, it transforms us from maiden to mother, or from stag to father.
So, as instructors, we encourage our students to at least go through the process of preparing a wish list.  It allows the birthing family the opportunity to discover their priorities, evaluate whether or not they are in the right setting and with the right care provider for their dream of their birth, and then sets the compass for the general direction you want to travel along on this upcoming journey. This is the left-brain preparation for the birth journey.
Then, when the birth journey starts, there is a guideline to evaluate the path that is being traveled. When the birth partner has to take over being the mother's voice, they know what's important, what is not.  The birthing mother is free to surrender her unnecessary baggage along the way. I imagine it kind of like the settlers of old, leaving what they really did not need along the side of the road to arrive at their destination.  As we go deeper into "laborland", we surrender to the right brain that turns off the lists, turns off expectations, and simply does what needs to happen to birth this baby, wherever the path may lead.
For us, the compass was always set to "Healthy Mom, Healthy Baby". Each birth achieved that in a different way, and each one grew me in just the direction I needed to be the mother of our new family.
Here are some resources to consider:
A priority exercise we use in our classes
HERE
A list of possible options to learn more about and prioritize for your wish list
HERE
A starting point for writing a wish list
HERE
.  We encourage our students to use a list like this to clarify what they are dreaming of, and then using their own words when they write their dream down on paper.  Try to keep it to one page; if you go beyond one page, print on the front side only so that it is easily read when it's inserted into your file.
Finding the right care provider:
If you are getting red flags from your care provider when you start talking about the dream for your birth, consider if there resistance to your preferences is aligned with evidence-based care or personal opinion.  Explore their resistance: what experiences are filtering their response to your requests? And then listen to them: they have been around birth and have seen a lot of outcomes as trained professionals.
When you sit quitely with all the information you have gathered, what does your intuition say? If it's telling you that your requests are not extreme and you know that other families have been supported in them, go on a fact-finding mission: who was their care provider? How did that choice work out for them when they look back at their experience? If your fact-finding mission comes to the conclusion that you need to change providers, then change: you only have one journey to birth this baby.  Surround yourself with the right care for the path you are about to embark on.
Good resources to find about local care providers are childbirth educators or doulas in your area, any "birth circle" type gatherings, or your area ICAN chapter.  The birth community in your area will have an idea of who you might want to consider as your care provier for the birth journey that you are dreaming of for your family.
Please do not hesitate to reach out to us if you have questions about care providers in the Phoenix area:  
[email protected]
We wish you all the best as you prepare for your birth journey with your Sweet Pea.
Disclaimer: 
The material included in this blog and video is for informational purposes only. It is not intended nor implied to be a substitute for professional medical advice. The viewer should always consult her or his healthcare provider to determine the appropriateness of the information for their own situation.  Krystyna and Bruss Bowman and Bowman House, LLC accept no liability for the content of this site, or for the consequences of any actions taken on the basis of the information provided.  This blog and video contain information about our classes available in Chandler, AZ and Payson, AZ and is not the official website of The Bradley Method®. The views contained in this video and on our blog do not necessarily reflect those of The Bradley Method® or the American Academy of Husband-Coached Childbirth®.
Categories: Birth plans, Information Center, Midwifery Care, Obstetrical Care, Q&A with SPB
/