...celebrating every swee​t pea their birth
| | |
| --- | --- |
| Posted on October 9, 2013 at 4:54 PM | |
Mommy Con LA was truly what I imagined a mommy-conference to be...great speakers, new product releases...first looks at new styles from trusted companies...it was amazing!  
We were able to attend and take notes...please take some time to check out all the vendors that were there over on our post on 
Sweet Pea Families
...pictures turn out better there, so that's where they posted.  In addition, check out our Wordless Wednesday on 
Sweet Pea Births
 and 
Sweet Pea Families
 to check out what else we saw that day...
The first speaker of the day was Dr. Robert Sears at 12:00 pm.  He is the author of
The Vaccine Book
.  Here are my notes from 
Dr. Sear's
 talk on vaccines...check at the end of the post for links to the other talks we heard that day.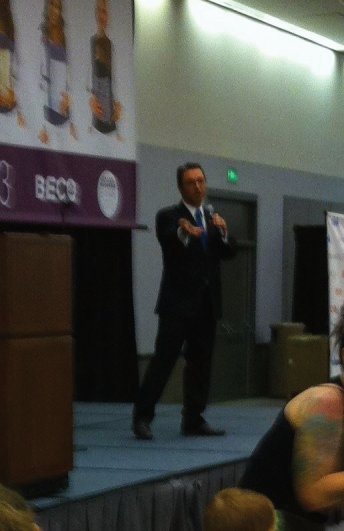 During pregnancy:
Flu vaccine:
No negative birth outcomes yet
Concern: mercury in the flu vaccine - we know mercury is toxic
If you are going to get it in pregnancy, ask your doctor for a dose that does not have mercury in it.  They usually come in single use vials.  If you are not sure, ask to see the label.  He tells his patients that if they can't get it without mercury, not to get it.  By the same token, he ensures they are willing to accept the disease risk (you may come down with the flu).
Whooping cough:
Whooping cough fluctuates about every five years.  You will see a climax of cases, and then the rate drops and starts building again.  Even after the vaccine was introduced, there is no measurable difference in the 5-year peak cycle.

The vaccine for adults was developed 6-7 years ago.  Up to then, you couldn't give an adult a child's vaccine because it would make them sick. (My head said WHAT?!?! and we are giving them to children??? He didn't say that, though.)  When there was the peak, the media started pushing the vaccine for adults - haven't changed their story even though we are now in a valley - they are still saying whooping cough rates are rising.

Right now, whooping cough is at a low.  It hasn't fluctuated with vaccine practices.  No one has bothered to realize that the danger to newborns is low right now.  About 20 infants die each year of whooping cough.  When it's a peak year, about 30 infants will die of whooping cough.  This was true before the adult vaccine and holds true still.  An infant can't get this vaccine, the child's vaccine can be administered after baby is 2 mos. old.  For those 2 months, they are not protected.

Theory: Give the pregnant mother the whooping cough vaccination so that the immunity theoretically passes through to fetus
No research has been done on this theory
No mercury in that vaccine
No research on the safety of this practice

Whooping cough is somewhat common - 50-100 cases per year in the US
Safe to vax while pregnant? One small study demonstrated no negative outcomes, you can detect the antibodies in the baby's bloodstream, however, it has not been tested to see if it is protective?  Did any of those babies get exposed to whooping cough and not get sick?? Nobody knows.

His basic advice is that if there is nothing to prove that is safe, then don't do it.  He doesn't recommend the whooping cough vaccine to patients.  It wears off, and you have to keep getting the vaccine.

Do pros/cons with your own care provider

Postpartum:
Safe to get flu
Safe to get whooping cough
There is no longer a direct line from the mother to the baby

If you are postpartum in the off-flu season, there is no reason to get the flu vaccine.

If you are postpartum during the flu season, then it is offered.  You may want to delay in the immediate postpartum: it may make you feel sick, weak, have a sore arm, side effects may make it hard to deal with a new baby and the postpartum period.

Deciding for your family: does your job expose you: size of company, exposure to kiddos.  Wait a little to get the vaccine if you think you are at risk.

Newborns:
Flu
Flu is tolerated by babies - only about 20 deaths per year from all the children that get the flu.
Vaccinate adults/children who are around the newborn for flu and whooping cough?
Weigh the pros/cons
Consider asking for mercury-free doses for children
In children, it only works 50% of the time
In adults, it only works 60-70% of the time
Rubella
It is no longer available as a single dose - it is mixed in with Measles and Mumps in the "MMR" vaccine
You would want protection against rubella in your pregnancy - it is known to cause birth defects if you get rubella while pregnant
Numbers per year: 
3 babies born with birth defects as a result of rubella during pregnancy 
10 kiddos catch it
If you have rheumatoid arthritis (RA), diabetes, thyroid disease, fibromyalgia, or any other autoimmune disease you need to know that there is a risk that you will get worse; there is also the risk of developing RA as a result of the vaccine.
HERE
is a link to his info on MMR his website
Hep B
The disease has been airborne exactly 1x, when a child sneezed on a teacher.  It is generally transmitted through blood during sex, or needle-sharing while doing drugs.
He suggests skipping or delaying this unless there is someone in the family with Hep B.
About 1% of the population has Hep B.
He stated that the wholesale vaccine against Hep B in infancy is more of a political and economic reason - there is no medical need for an infant to be vaccinated (unless there is someone in the family with Hep B).  He made the same allusion to the fact that babies don't have sex and needle-share that we make in class, however he has a medical degree and we don't!
He strongly suggests that you speak up if you are going to decline Hep B in the hospital - and says do not let your baby our of your sight!  He said that consent is in the hospital admission forms, and if your baby is taken into the nursery without you, chances are they will receive the vaccine.
My note: please keep in mind that these are notes that I wrote quickly so I could capture a sense of his talk and share it with you.  It is not medical advice, and as he said several times in his talk, it is up to each parent to discuss their particular family situation with their care provider and make the best choice for their family.
HERE
are the notes from Jessica Martin-Weber of The Leaky
[email protected]
@b - Her talk was about confident parenting.
HERE
are the notes from January Harshe of Birth Without Fear - Her talk was about the choices we make around birth
HERE
are the notes from Abby Theuring of The Badass Breastfeeder - Her talk was about empowering breastfeeding as a society
Please leave us a comment - it will be moderated and posted. 
Disclaimer: 
The material included on this site is for informational purposes only.
It is not intended nor implied to be a substitute for professional medical advice. The reader should always consult her or his healthcare provider to determine the appropriateness of the information for their own situation.  Krystyna and Bruss Bowman and Bowman House, LLC accept no liability for the content of this site, or for the consequences of any actions taken on the basis of the information provided.  This blog contains information about our classes available in Chandler, AZ and Payson, AZ and is not the official website of The Bradley Method®. The views contained on this blog do not necessarily reflect those of The Bradley Method® or the American Academy of Husband-Coached Childbirth®.
Categories: Mommy-Con, Vaccines
/