...celebrating every swee​t pea their birth
| | |
| --- | --- |
| Posted on October 10, 2013 at 6:33 AM | |
Cassandra and I were part of the "media" contingent at MommyCon LA Babywearing World Record Event on Sunday, October 6, 2013.  We had such a wonderful time walking the floor, meeting vendors and being inspired by the wonderful speakers as we looked and listened to bring all the happenings back to you.  See the bottom of this posts for links to more of the activity! 
At 2:00 pm, the third person to take the stage on Sunday was January Harshe, founder of Birth Without Fear, sponsored by Nüroo.  She started a
facebook page
with a simple message - that birth does not have to be scary, and that we have choices.  That message has resonated and grown into an incredible community that is active on-line 24/7.
Here are the notes I took as she delivered her message on Sunday: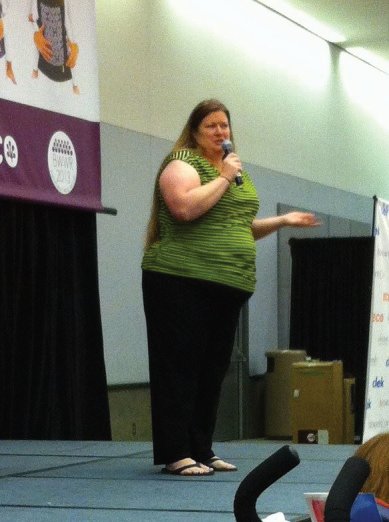 You are judged for your choices no matter what you make.  Life is hard – we are all doing our best.  The last thing we need to do is judge others – be kind to one another.
Choices – you do have a choice when it comes to birth.
With her fourth child, she decided to have complete faith in her body.  We are indoctrinated with unrealistic images of birth in the media – either it's completely zen calm and peaceful (
my note: and in the middle of nowhere somewhere beautiful
), or it's a major emergency when mother and baby need to have a life-saving operation.
There is a choice not to cut – you can choose to birth via cesarean or vaginally – you can choose to breastfeed or pump or to give formula.
The days when the OB told a mom what to do and how it's going to go – that is changing.  She's striving to make them numbered.
January wants to tell as many women as possible that they have a choice:
My body
It's up to me how I birth
What is another mom going through?  How does she need to heal?  "This is my vagina – if I want to have a baby out of it – it's my choice."
If you can't find someone to support your choice – do more than sit online and complain.  Start acting as a consumer – demand change.
I heard a paradigm shift in her presentation:
You hire your care provider to do a service.  Find someone to do the job you want them to do.  If they don't listen, respect your choice, then you know it's time to hire someone else.
The last thing you want is to go home with a new baby and the trauma from a bad birth experience.  Your care provider doesn't have to live with your birth – you do.
If there were no moms birthing in the hospitals any more, they would be quick to change their policies!
We need to take the power back for ourselves – our daughters – our granddaughters.
The feeling of "I rocked this birth – I can do anything" should not be rare and exclusive.
We need to go into birth feeling supported and empowered.
How we birth affects our postpartum experience.
If you have postpartum depression, and you always feel like you are going to cry – Cry.  It's okay – you are still a good mom. (
melt – I love this woman's message!!
)
After a VBAC with her third child, within 15 minutes her care provider started tearing apart her birth and her choices and deflated her "VBAC high".  The care provider was callous and careless, and her postpartum experience left her questioning herself.

With her fourth child, she decided to get "in the zone".  She and her husband made their choice about how they were going to birth.  If anyone came into "the zone" with negative energy, she punched them out (jabs at the air with a couple of side punches to the great delight of the audience) and went back into her "zone".

She birthed her baby without any drama, complications, and she had her family around her after the baby was born.  They welcomed their new child together.  Her postpartum experience was very different – down to the breastfeeding relationship.

In talking with midwives at The Farm, they do not have any incidence of postpartum depression.  One of the midwives stated that she thinks PPD is a symptom of nuclear family living in isolation.  In communal living, women support and help each other; when they see a need, they take care of it.  In nuclear family living, women are isolated and alone.  It is seen as weakness to need help.

January believes that we need other women.  We need to cry and celebrate together, be okay with doing each other's dishes, bringing meals, letting mamas take a shower.  We need to support each other with no judgement and help each other with love.

Empower birth.
Support the postpartum period.

My note…even more kudos to this woman for being there for the mamas at Mommy Con.  She has her own conference coming up this weekend – not even a mention or a peep about it when she had the perfect platform for self-promotion.  Truly she is a woman who is changing the world, one interaction at a time.
Want more Mommy Con scoop??
HERE
are my notes from Dr. Robert Sears - He talked about vaccinations during pregnancy, postpartum, and for infants.
HERE
are the notes from Jessica Martin-Weber of The Leaky
[email protected]
@b - Her talk was about parenting and being confident in our choices.
HERE
are the notes from Abby Theuring of The Badass Breastfeeder - Her talk was about empowering breastfeeding as a society
HERE
is a link to our tour of the convention floor.
HERE
is a link to the Babywearing Fashion Show.
HERE
is a link to pictures of the Babywearing World Record.
Please leave us a comment - it will be moderated and posted. 
Disclaimer:
The material included on this site is for informational purposes only.
It is not intended nor implied to be a substitute for professional medical advice. The reader should always consult her or his healthcare provider to determine the appropriateness of the information for their own situation.  Krystyna and Bruss Bowman and Bowman House, LLC accept no liability for the content of this site, or for the consequences of any actions taken on the basis of the information provided.  This blog contains information about our classes available in Chandler, AZ and Payson, AZ and is not the official website of The Bradley Method®. The views contained on this blog do not necessarily reflect those of The Bradley Method® or the American Academy of Husband-Coached Childbirth®.
Categories: Birth place options, Birth plans, Communication, Depression, Informed Consent, Mommy-Con, Next baby, Next pregnancy, Vaginal Birth After Cesarean, Vaginal Birth After Multiple Cesareans, VBAC
/