...celebrating every swee​t pea their birth
| | |
| --- | --- |
| Posted on October 10, 2013 at 6:53 AM | |
Mommy Con founder Xza Louise Higgins envisioned that the conferences would be about delivering quality information and products to mothers around the country.  The Los Angeles event did all that and more!  See our vendor coverage
HERE
on our SPF blog, and check out the Babywearing Fashion Show
HERE
, and scenes from the Babywearing World Record
HERE
.  
To close out this amazing day, a fourth speaker took the stage at 3:00 pm. Milkin' Cookies sponsored an appearance by Abby Theuring from
The Badass Breastfeeder
.  She came up to address the dedicated mamas (and some partners!) who had been in attendance with their nurslings since 10:00 am.  Her message was about taking up the cause to normalize breastfeeding.
Here are the notes from her speech: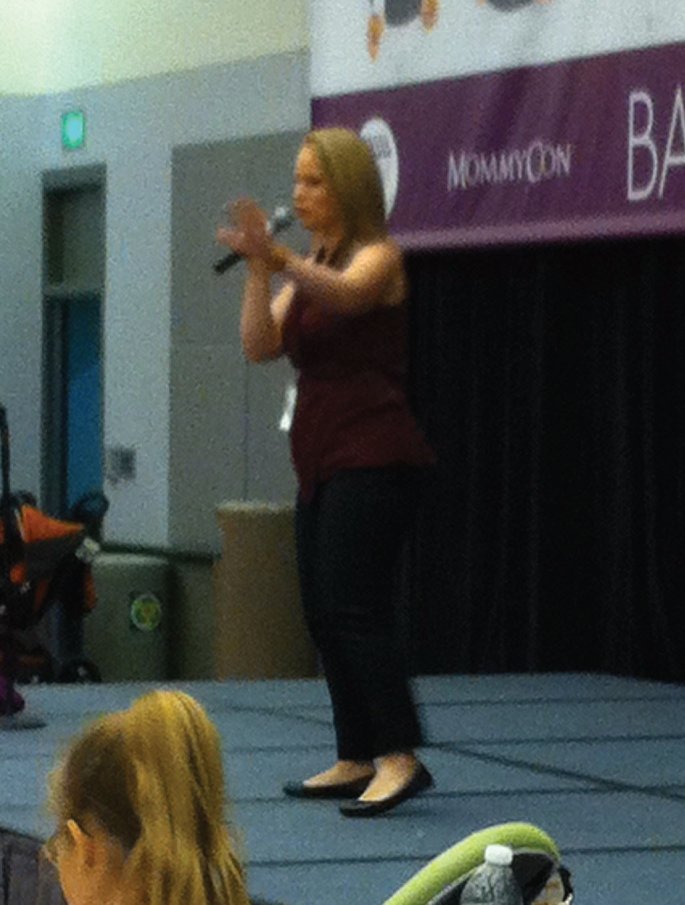 She had an interaction with women at the post office who asked her about breastfeeding when they saw her nursing in public.  As she walked away, she reflected on the conversation.  While it had been awkward to talk at length with strangers about breastfeeding, she realized that by breastfeeding her toddler in public, when had just opened up the possibilities to the women she had been talking to.  The next time they saw someone nursing in public, they would get it…and if they ever saw another woman breastfeeding a toddler, they wouldn't think to themselves, "I've never seen that before"…they would remember her.
Before we are pregnant for the first time, we have a totally different relationship with our breasts.  She put on a non-nursing bra from her drawer the other day and realized that before parenthood, her bras were all about putting breasts on display, in your face; and that is how it is in society – breasts are displayed.**
Latch a baby onto that breast – it freaks people out!! It doesn't matter that it is natural – people don't want to see it.
Nursing In Public – everyone can do that.  We can start a chain of events – every mom has the power to normalize breastfeeding.
We are all fighting the fight.
Fight for worthy causes – NIP is one of them.
This is a cause where all we have to do is show up.
Live life.
Lead life.
Breastfeed as you want to do.
Makes us happy no matter where we are.
Breastfeeding moms were backed into a corner when formula became "the norm".  Breastfeeding moms were scared to go out of the house – we need to reclaim the norm!
Her first breastfeeding experience was an awful experience – not nice, soft and fuzzy like all the pictures.  Every day she thought breastfeeding was over – and then it wasn't.  By three months, her child was off formula, and at 26 months, her child is still breastfeeding.
There are sleepless nights with a newborn.  The first few months of parenting, you feel like a drunk person.  Time is upside down.  You are going to the emergency room because you don't know what is wrong with your baby.  Then you learn.  And keep learning.
Breastfeeding is proven to be able to change society.  We can change the norms.  We can raise healthy children who in turn become healthy, whole adults.
Norms are caused by what people are doing.  We have the opportunity to start a new cycle:
Start breastfeeding
Start nursing in public
Empower breastfeeding from the start
When it's an observers turn or our children's turn, they do the same
Empowerment is contagious
Empowerment is progressive
It begins to infiltrate our parenting, every aspect of life

For example: pregnant with horrible morning sickness.  Get up. Throw Up. Go to work.  Continue to throw up.  Who does that??  Yet you get through it and move on.  (I think her point was that if you can make that shift for your pregnancy/child, you start making other shifts in thinking for your child, i.e., NIP even if it is out of your "norm".)

From her social worker background, she liked rules – she liked structure.  Parenting is anything but that.

Mothers are the foundation of civilization.  It is time for mothers to lead the way.

**This rang so true for me!! That morning, I figured I would throw on my last pretty, underwire bra that I have since I was not going to bring a nursling with me.  The second I had it on properly – O My Gosh – I couldn't wait to take it off!! It was incredibly uncomfortable.  So back to my trusty nursing bra I went…I felt like I could breathe again.
Want to get more scoop on the Mommy Con experience?
HERE
are my notes from Dr. Robert Sears - He talked about vaccinations during pregnancy, postpartum, and for infants.
HERE
are the notes from Jessica Martin-Weber of The Leaky
[email protected]
@b - Her talk was about parenting and being confident as a parent.
HERE
are the notes from January Harshe of Birth Without Fear - Her talk was about the choices we make around birth and forming a support community.

Please leave us a comment - it will be moderated and posted. 
Disclaimer:
The material included on this site is for informational purposes only.
It is not intended nor implied to be a substitute for professional medical advice. The reader should always consult her or his healthcare provider to determine the appropriateness of the information for their own situation.  Krystyna and Bruss Bowman and Bowman House, LLC accept no liability for the content of this site, or for the consequences of any actions taken on the basis of the information provided.  This blog contains information about our classes available in Chandler, AZ and Payson, AZ and is not the official website of The Bradley Method®. The views contained on this blog do not necessarily reflect those of The Bradley Method® or the American Academy of Husband-Coached Childbirth®.
Categories: Breastfeeding, Breastfeeding Challenges, Breastfeeding in Public, Mommy-Con, NIP, Nursing, Nursing In Public
/