Shopping Cart
Your Cart is Empty
There was an error with PayPal
Click here to try again
Thank you for your business!
You should be receiving an order confirmation from Paypal shortly.
Exit Shopping Cart
...celebrating every swee​t pea their birth
| | |
| --- | --- |
| Posted on June 12, 2014 at 10:40 AM | |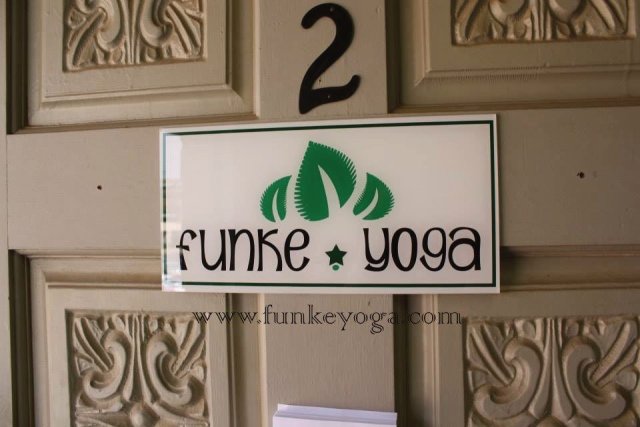 Our featured business this month is owned by a fellow Bradley™ mom, Mara Funke.  Funke Yoga is a non-traditional studio in the heart of Old Town Scottsdale. Her goal is to offer a variety of yoga opportunities, for everyone from the absolute beginner to the advanced practitioner. The atmosphere is judgment-free and non-competitive.
What motivated you to start a yoga studio?
In my former life as a local health department employee, I coordinated yoga classes for the employee wellness program.  I saw the most amazing transformations!  Folks who would never have set foot in a yoga studio were provided with a gentle teacher and supportive environment that allowed them to try yoga.  The class attracted people over 60 years old, employees who were out of shape, as well as well-seasoned yogis.  Watching "normal people" reap the benefits of yoga was incredibly inspirational.  I suddenly had an urge to bring the tangible benefits of yoga to the world!
Meanwhile, I had been practicing yoga in the valley for years, and found myself unsatisfied with the offerings.  I was faced with a competitive, sometimes condescending spirit among my fellow yogis at my "home" studio.  Simultaneously, I because uncomfortable with the level of religiousness that seemed to be creeping into my classes at an increasing rate as I became a more advanced student.  So, I decided to develop a new space to practice yoga where every student would find the classes physically accessible, free of uninvited spirituality, and in an inclusive environment where everyone would be comfortable.  
Do you focus on a particular style of yoga?
Due to our non-traditional nature, we do not focus on any specific style at Funke Yoga.  Our class themes are playful and diverse.  Half of our offerings are appropriate for students of any fitness level, including the absolute beginner.  Funke'steachers focus on providing physical and mental challenges in a kind and individualized setting.  Classes offered range from Yoga 101 to Power.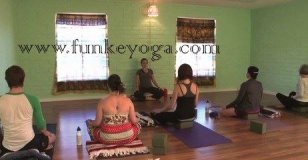 Do you have a favorite class? Which one is it, and why?
Personally, my favorite class is Restorative.  As Murphy's Law would have it, I became pregnant halfway through launching my studio concept.  Once a zealous Ashtanga and Hot Yoga practitioner, my body seemed to betray me!  I learned an important lesson- how to be gentle with myself.  My body in gestation needed love, not challenge- as being awake while pregnant was challenge enough!  Restorative Yoga introduced me to the juicy, heart expanding, and rejuvenating side of yoga.  I learned to be kind to myself and see all the physical benefits that I could gain without an insane cardio routine.
How would you describe your philosophy about yoga?
I've enjoyed practicing yoga in the Valley of the Sun for over five years now, and over time experienced a lot of things that I loved and did not love in my studio explorations.  I am not a yoga teacher- nor do I intend to be.  I am a student, and will build a yoga space for other students' needs.  Using my Masters-level background in public health, fitness, and my Midwestern work ethic, I want to bring something to Old Town to meet other students' physical and mental needs.  Yoga should be accessible for everyone, regardless of their shape, ability to pay, and belief (or disbelief) in God.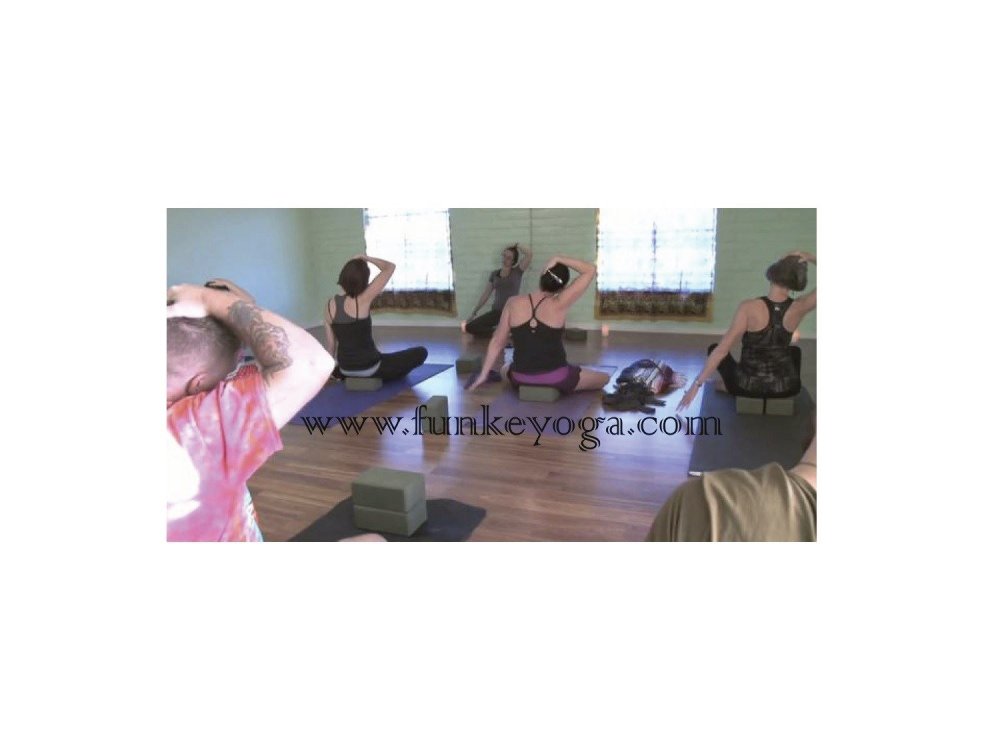 What sets your shop apart from other yoga studios?
Funke Yoga is different from any yoga space I've ever experienced.  It is non-dogmatic, non-competitive, and all-inclusive.  Come and see for yourself!  I would love to extend the offer of a free class to any Bradley Method® student that would like to explore yoga the Funke Yoga way.
Contact information:
Tel: 480-949-3229
Did you use yoga to add breath to your pregnancy? What did you think?
Please leave us a comment - it will be moderated and posted. 
Disclaimer:  The material included on this site is for informational purposes only.
It is not intended nor implied to be a substitute for professional medical advice. The reader should always consult her or his healthcare provider to determine the appropriateness of the information for their own situation.  Krystyna and Bruss Bowman and Bowman House, LLC accept no liability for the content of this site, or for the consequences of any actions taken on the basis of the information provided.  This blog contains information about our classes available in Chandler, AZ and Payson, AZ and is not the official website of The Bradley Method®. The views contained on this blog do not necessarily reflect those of The Bradley Method® or the American Academy of Husband-Coached Childbirth®.

Categories: Pregnancy

0

/