...celebrating every swee​t pea their birth
| | |
| --- | --- |
| Posted on January 9, 2015 at 9:12 AM | |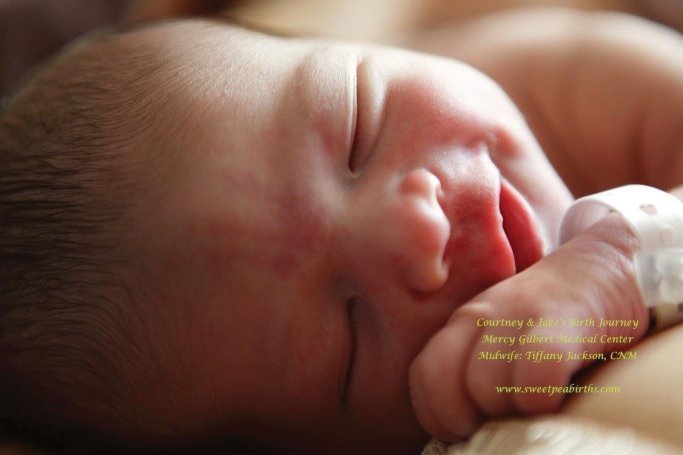 It's birth story day!!  This week I am sharing a birth story from our Fall 2012 class.  In today's video, Courtney is talking about her family's birth journey with our Winter 2012-13 class.  Jake was working, so Courtney shares his words of wisdom for coaches, too.
Here is their backstory: 
Courtney was diagnosed with Gestational Diabetes via blood glucose test (usually administered between 24 – 28 weeks of pregnancy)
High Blood Pressure was measured at office visits from 36 weeks on; whenever she checked her blood pressure at home, it was normal
Midwife recommended induction at 38 weeks due to risks of having gestational diabetes (large baby, possible stillbirth) – Courtney negotiated for more office visits, more monitoring, and extra ultrasounds to "buy" two extra weeks of pregnancy
How their birth journey progressed:
Courtney and Jake agreed to induction on her due date with prostaglandin gels
After about 12 hours at the hospital, the couple was told that labor had not progressed enough so they agreed to an amniotomy (artificial rupture of membranes)
Baby was born vaginally with no other interventions at 11:56 pm
In Courtney's own words:
Video Highlights:
Note: Looking back, Courtney was so grateful she advocated for a longer pregnancy.  One of the biggest concerns about gestational diabetes is that babies are larger than average.  At birth (40 weeks gestation), their baby weighed 6 pounds, 9 ounces and measured 21 inches long.  This is clearly *not* a baby that would be called "large for gestational age" when you consider the average birth weight for a term baby is about 7.5 pounds.
Which labor tools worked for you to manage the intensity?
Changing positions and moving around: we the used birth tub, knees on bed and arms draped over back of the bed, side lying position
Being surrounded by people who support your choices is probably the most important thing: husband spoke up and asked people who were in the room to leave; midwife was amazing; everyone on staff who walked in the room acknowledged reading and supporting their birth plan
Peppermint oil for nausea – helped control the pace of her breathing
Unspoken communication with a loving coach – even though it felt silly at the time, the practice in classes and at home paid off because he knew what she wanted with the wave of a hand.
What would Jake (husband) say if he were here?
Be prepared for everything
Expect everything to not go the way you want it
Try to predict what she needs so she does not have to say it
Some images from their birth:
Courtney & Jake's Birth Journey

Early labor after induction with prostaglandin gels. They are using the labor position we call "The Prom Dance".
Courtney & Jake's Birth Journey

Using the deep tubs available for laboring at Mercy Gilbert Medical Center
Courtney & Jake's Birth Journey

The awe that hits many couples after Sweet Pea arrives...we hope that you are supported in your birth choices so you can feel awed by your birth journey, too.
PostScript:
Courtney and her husband Jake were the last couple that enrolled in that class series with a last-minute phone call, "We really need to get into this class!"  You would be hard-pressed to find a birth worker who would say no to them!!  It is so humbling to hear that saying yes to them when we had a full class already made a big difference for their birth. I praise God for His wisdom and His incredible design.
What did you learn from your birth journey?
Please leave us a comment - it will be moderated and posted. 
Disclaimer: 
The material included on this site is for informational purposes only.
It is not intended nor implied to be a substitute for professional medical advice. The reader should always consult her or his healthcare provider to determine the appropriateness of the information for their own situation.  Krystyna and Bruss Bowman and Bowman House, LLC accept no liability for the content of this site, or for the consequences of any actions taken on the basis of the information provided.  This blog contains information about our classes available in Chandler, AZ and Payson, AZ and is not the official website of The Bradley Method®. The views contained on this blog do not necessarily reflect those of The Bradley Method® or the American Academy of Husband-Coached Childbirth®.
Categories: Birth, Birth Story, Bradley Method® birth story, Bradley Method® outcome, Bradley® Dads, Bradley® Coaches, In Their Own Words, Induction, Induction of Labor, Labor Induction, Labor Support, Midwife, Midwifery Care, Natural birth, natural labor coping mechanisms, Natural labor coping techniques
/