...celebrating every swee​t pea their birth
| | |
| --- | --- |
| Posted on April 24, 2015 at 9:58 AM | |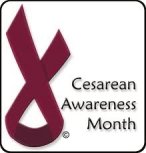 Uterine Rupture.   
If you have had a previous cesarean, this is THE "drop" word for many care providers when they have their "informed consent" talk with patients for consequent pregnancies.
Today I want to take a look at several other complications related to labor and delivery.  If your care provider is expecting you to be influenced by risk factors for uterine rupture, I think it is fair to look at all the other risk factors of pregnancy and labor in order to create a bigger picture and put things into perspective.
Pregnancy is generally considered a healthy time in a woman's life.  In order to make life, the woman's body has to be able to support that life.  In most cases, it is healthy women who become pregnant.  What do we have to be afraid of?  In most cases: nothing.  However, as with many if not all things in life, there is a certain level of risk, and yes, sometimes things go wrong.
So let's start with the risk numbers for uterine rupture.  Read
THIS
blog post for an in depth look at the numbers.  Here is the summary of the incidence of uterine rupture, depending on what category you fall in:
Unscarred Uterus: 0.0033% (primigravidas) to 0.0051% (multigravidas)
VBAC: .5% - .7% 
VBA2C: 1.7%  (vaginal birth after 2 cesareans) 
VBAMC: 1.2%  (vaginal birth after multiple cesareans) 
Previous VBAC: .4% - .5%  (if you had a previous successful VBAC) 
VBAC + Augmented labor:  .9%  (stats for first attempt) 
VBAC + Induced labor: 1%  (stats for first attempt) 
So what are your risks of other complications of labor?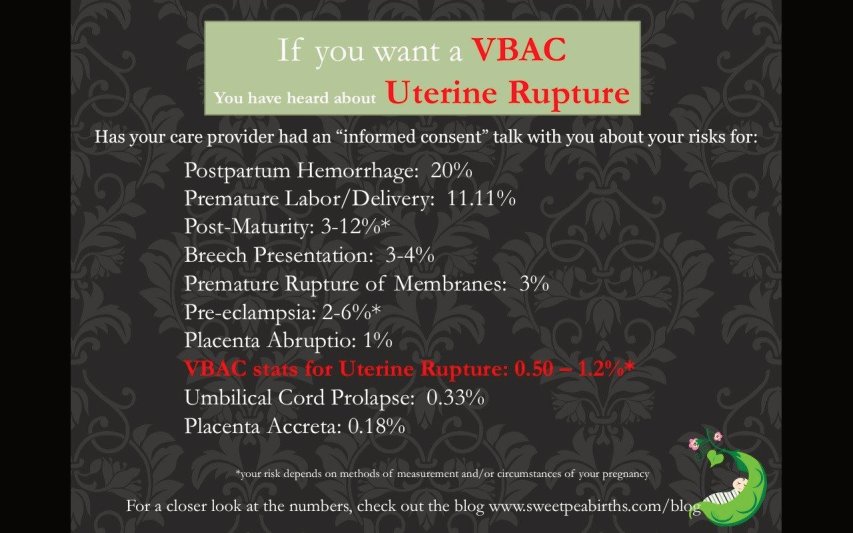 True statisticians are going to take issue with this oversimplification of comparisons.  In recognition that a percentage is more than its face value, here are the ratios and the sources for my information:

Postpartum Hemorrhage:  1/5 – .2000 – 20%
Definition:  "Postpartum hemorrhage is traditionally defined as blood loss greater than 500 mL during a vaginal delivery or greater than 1,000 mL with a cesarean delivery. However, significant blood loss can be well tolerated by most young healthy females, and an uncomplicated delivery often results in blood loss of more than 500 mL without any compromise of the mother's condition." Quoted from
Medscape
 
"The incidence of postpartum hemorrhage is about 1 in 5 pregnancies, but this figure varies widely due to differential definitions for postpartum hemorrhage." 
Stat
SOURCE
Preterm labor and preterm delivery: 
1/9 – .1111 – 11.11%
Definition: Baby born before 37 weeks
Stat
SOURCE
Post-Maturity:
3-6%
Definition:  pregnancy past 42 weeks in which the placenta cannot provide the nourishment to maintain a healthy fetus
"The incidence of postdates ranges from 3 - 12% of all pregnancies. If the pregnancy is dated using ultrasound criteria, the incidence of post-dates is lower and ranges from 3 - 6%. Only 1 - 4% of all pregnancies continue to 43 weeks."
Stat & Quote
SOURCE
Breech presentation:
3-4 % of all deliveries
Definitions of the types of breech:
Frank breech (50 – 70% of all breeches): In a frank breech, the baby's buttocks lead the way into the pelvis; the hips are flexed, the knee extended (pike position).




Complete breech (5 – 10% of all breech): In a complete breech, both knees and hips are flexed, and the baby's buttocks or feet may enter the birth canal first (cannonball position).




Footling breech (10 – 30% of all breech): one or both feet lead the way.

Stat

SOURCE

for frank, complete, and footling breech birth




Transverse lie

. A few babies lie horizontally in the uterus, called a transverse lie, which usually means the baby's 

shoulder

 will lead the way into the birth canal rather than the head.  1/500 –  .0020 – 0.20%

Preterm Premature Rupture of Membranes before 37 weeks: 3%
3% of all pregnancies and occurs in approximately 150,000 pregnancies yearly in the United States 
Stat
SOURCE
Preeclampsia:
 2% to 6%
Definition:  a condition of pregnancy in which the mother's blood pressure starts to rise to dangerously high levels, the indicator for possibility of more complications that are potentially fatal to mother and/or baby; 2% to 6% in healthy, nulliparous women (women who have never given birth yet) 
Stat
SOURCE
Placenta Abruptio:
 1.0%
Definition:  the placenta separates from the uterine wall before delivery of the baby
"The frequency of abruptio placentae in the United States is approximately 1%, and a severe abruption leading to fetal death occurs in 0.12% of pregnancies (1:830)."
Stat & Quote
SOURCE
UTERINE RUPTURE STATS FALL HERE Umbilical cord prolapse:
 1/300 – .0033 – 0.33%
Definition: the umbilical cord precedes the baby in the birth canal
Stat
SOURCE
Placenta Accreta:
 1/533 – .0018 – 0.18%
Definition:  the placenta grows too deeply through the uterine wall 
July 2012 study publication
Stat 
SOURCE
What do you think now that you have seen a wide array of complications and risks?
Please leave us a comment - it will be moderated and posted.  
*I think* that the amount of traffic you so generously generate has led to a lot of spam posting.  In an effort to keep the spam to a minimum, I am taking the time to moderate comments now.
For more reading:
Uterine Rupture in Pregnancy: Article dated July 31, 2012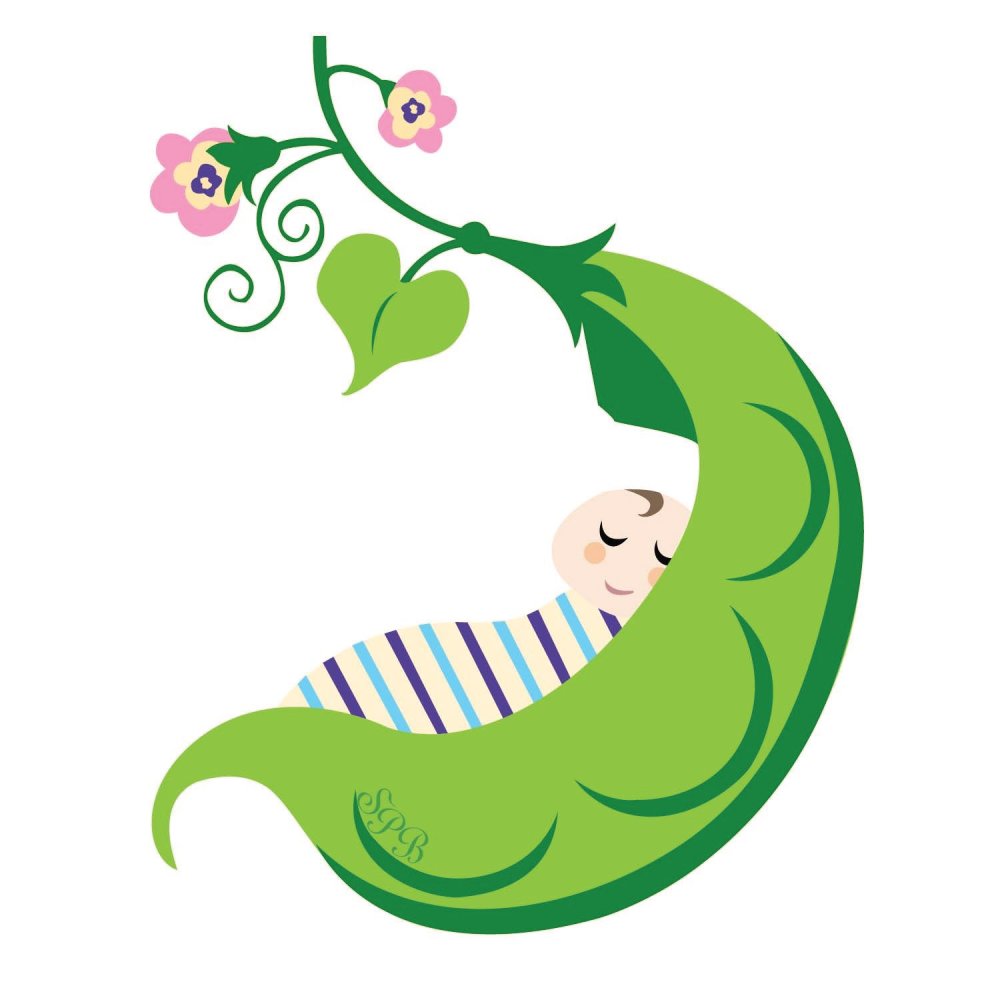 http://emedicine.medscape.com/article/275854-overview
Understanding Labor and Delivery Complications – The Basics from WebMD
http://www.webmd.com/baby/understanding-labor-delivery-complications-basics
The Risks of Cesarean Section
http://www.motherfriendly.org/Resources/Documents/TheRisksofCesareanSectionFebruary2010.pdf
Disclaimer: 
The material included on this site is for informational purposes only.
It is not intended nor implied to be a substitute for professional medical advice. The reader should always consult her or his healthcare provider to determine the appropriateness of the information for their own situation.  Krystyna and Bruss Bowman and Bowman House, LLC accept no liability for the content of this site, or for the consequences of any actions taken on the basis of the information provided.  This blog contains information about our classes available in Chandler, AZ and Payson, AZ and is not the official website of The Bradley Method®. The views contained on this blog do not necessarily reflect those of The Bradley Method® or the American Academy of Husband-Coached Childbirth®.
Categories: Postpartum, Pre-eclampsia, Pre-term Labor, Premature Ruptture of Membranes, PROM, ROM, Rupture of Membranes, Vaginal Birth After Cesarean, Vaginal Birth After Multiple Cesareans, VBAC
/