Shopping Cart
Your Cart is Empty
There was an error with PayPal
Click here to try again
Thank you for your business!
You should be receiving an order confirmation from Paypal shortly.
Exit Shopping Cart
...celebrating every swee​t pea their birth
| | |
| --- | --- |
| Posted on July 21, 2015 at 6:49 AM | |
We see and hear birth "bumper stickers" every day…
"Trust birth"
"I am strong"
"My body is built for birth"
"My body, my baby, my birth"
And the list goes on.
The problem is…that these one-liners are not always true.  This leaves countless women feeling like they were lied to, cheated, betrayed; it might make them feel like they are failures, defective, broken, weak…
When the truth is…there is nothing wrong with them.  As a birth culture meaning to do well by making women believe they are capable and strong, by trying to empower them with reassuring phrases, we are inadvertently creating these expectations that are impossible to make true all the time.
As I sat in the middle of Christopher Creek on Sunday, watching the water flow past me, I couldn't help but make the obvious correlations between water, going with the flow, the birth journey...
All the clichés I have picked up after being immersed in birth work for the last five years wanted to be made:
Women are all the rocks in the water, 
strong in the face of the surges
The water moves around and over us,
 but it can't take away who we are
We can be in in the midst of labor
 and be strong as we go with the flow
It could have been very easy to get carried away with this line of thought and write a grandiose reflection on how amazing we are.
Then, a little stick snagged upright in the rocks caught my eye.  And I thought, why?  Why do we resist the idea of being vulnerable? Why are we afraid of being compared to something breakable?  What is it about this place of not knowingwhen we might break out of our safety and security that makes us so uncomfortable?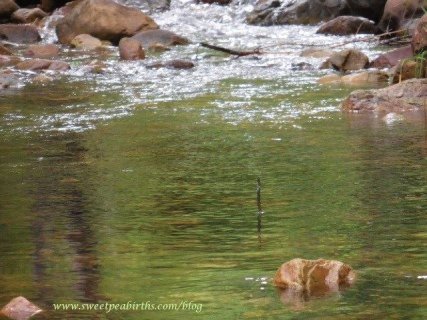 So I changed the course and let my mind reflect on, "What if we were more like the sticks instead of the rocks?"
If we are like this little stick stuck in the rocks, the water can still flow around us.  All the sensations, sights, sounds of the birth journey can happen to us.  Although we are just an insignificant little stick caught in the rocks in the creek bed, we are still The Stick.  Who we are at our core is still "us".  All the things that shaped and grew us are still true while we are in our birth journey.
And yet, we wait.  We know this place of safety cannot last forever.  What if we wait, even look for, that moment when we are torn loose from the rocks? What if we allow our safety and security to be torn away from us, and throw ourselves deep into the current of the birth journey?  No expectations, no demands, we simply allow ourselves to be and see where the current takes us.
When we are pulled into this current, we are no longer letting it flow around us – we are in it, feeling it, experiencing the ups, the downs.  Being in the crevices where we may be caught for a little while, looking around us, observing, learning that scenery; until we are loosened again and taken up into the flow of the waters one more time.
Where we land, how the birth journey plays out…we do not know where that place will be.  Yet when we land, we are still ourselves, weak in the grand scheme of the water and rocks in the creek, yet stronger for having taken the journey, and transformed into a new shape as the rocks and the water had their effect on us.
I encourage all of you who are gravitating to the great platitudes about our body, our birth and our babies to really sit with the idea of being vulnerable.  And yet strong enough to survive and be transformed by the journey of pregnancy, labor and birth.  Because survive it you will.
What you do with everything that you experience…that is up to you.  I hope you will celebrate your moments of brilliance, watch for the moment(s) of surprise, learn from your flashes of weakness.  
Most of all, I wish you joy as you travel through the process of discovering your new normal, still the person you were before, yet growing a new branch on your tree.  You are now growing into motherhood.



The material included in this video is for informational purposes only. It is not intended nor implied to be a substitute for professional medical advice. The viewer should always consult her or his healthcare provider to determine the appropriateness of the information for their own situation.  Krystyna and Bruss Bowman and Bowman House, LLC accept no liability for the content of this site, or for the consequences of any actions taken on the basis of the information provided.  This blog and video contain information about our classes available in Chandler, AZ and Payson, AZ and is not the official website of The Bradley Method®. The views contained in this video and on our blog do not necessarily reflect those of The Bradley Method® or the American Academy of Husband-Coached Childbirth®.

 














Categories: Affirmation, Birth, Birth Mantra, Birth plans

0

/