...celebrating every swee​t pea their birth
| | |
| --- | --- |
| Posted on August 12, 2015 at 12:41 PM | |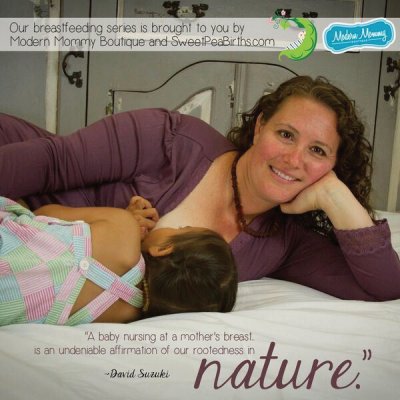 The Sweet Pea Kids and I have enjoyed exploring this summer.  At the mention of, "Arizona," most people imagine the desert, Monument Valley, the Grand Canyon…lots of sand, rock and Saguaro cactus.  We summer at the Mogollon Rim – a beautiful stand of Ponderosa pines interspersed with creeks, streams, and lakes (a.k.a. ponds if you grew up next to Lake Ontario).
As we were hiking yesterday, we came across a stunning tree – it was hollowed out at the bottom by animals, water, insects…I'm not sure.  What struck me was that although the base was hollowed out, the tree is still firmly rooted, and the trunk above it was strong, thick, and there were still live branches and green leaves.  The word and the idea of "rootedness" took on a whole new meaning for me.
Since getting there required crossing a stream, I didn't have my camera with me.  I fell into the stream on the way back to our picnic site, so I'm having a bit of a "sorrynotsorry" moment as I share today's breastfeeding image with you since I don't have a picture of that amazing tree.
This image of a beautiful mama breastfeeding a toddler is a fitting analogy for today's quote.  When we breastfeed a toddler, it isn't an "Every hour on the hour" thing, like it can be with a newborn or an infant.  It is feeding with love.  It is negotiating boundaries.  It is the understanding that breastmilk is nature's best remedy, and yet, our toddlers are on the way to learning other coping strategies to soothe and calm themselves.
And when that toddler finally weans, there is memory.  They remember being nourished at the breast.  They remember the taste of your milk.  They also remember the love with which they were fed.  It's natural.
Although we live with modern day conveniences, many of us can still marvel at the beauty in nature.  A walk in the woods, listening to a stream, gazing at a sunrise, the sunset or the stars; those things illicit wonder, quiet, peace.  To me, all those things suggest that once upon a time, we were part of the land, and the land nourished us and provided for us, otherwise we could not have existed as a species.  
Just as a natural feeding relationship does that for a child…at one time mother is all, then some, and then mother is simply a safe place to reconnect and remind us of how much we are loved.
Please leave us a comment - it will be moderated and posted. 
Disclaimer: 
The material included on this site is for informational purposes only.
It is not intended nor implied to be a substitute for professional medical advice. The reader should always consult her or his healthcare provider to determine the appropriateness of the information for their own situation.  Krystyna and Bruss Bowman and Bowman House, LLC accept no liability for the content of this site, or for the consequences of any actions taken on the basis of the information provided.  This blog contains information about our classes available in Chandler, AZ and Payson, AZ and is not the official website of The Bradley Method®. The views contained on this blog do not necessarily reflect those of The Bradley Method® or the American Academy of Husband-Coached Childbirth®.
Categories: Breastfeeding, Breastfeeding Awareness Month, Breastfeeding support, World Breastfeeding Week
/