...celebrating every swee​t pea their birth
| | |
| --- | --- |
| Posted on August 14, 2015 at 9:48 AM | |
In Their Own Words: Dezerrae
A Story about Breastfeeding and the NICU
"In Their Own Words" is one of my favorite series on the blog.  It lets families to share their stories, and help others along the way.  Thank you, Dezerrae, for taking the time to write out your breastfeeding story.  We are honored to be able to share it with other mothers who are facing challenges along their breastfeeding journey.
 ~Krystyna
My first experience with breastfeeding did not go well. I had a very long labor with my daughter, she had to go to the NICU and was immediately given formula. She never learned to latch, and I was never able to nurse. I did not realize all the resources that are out there, and had no support at home or anyone to ask advice from. I pumped exclusively for 4 months and was able to give her breast milk for 6 months.
My second experience with breastfeeding was much more successful, but just as hard. My son was born at 28 weeks, at 2 lb and 9 oz. He of course went immediately to the NICU. He was so small and fragile I was determined to give him the best, and all I knew was that breast milk would be best for his tiny fragile body. I started pumping immediately after birth, and having pumped exclusively with my daughter, I was very comfortable pumping.
My son spent exactly 2 months in the NICU. I diligently pumped every 2 to 3 hours round the clock day in and day out. I dealt with engorgement, thrush, clogged ducts, and exhaustion. My son needed me. He needed to be given the best nutrition possible, so I pumped every day and brought him milk to the NICU every day.
After 2 months he was released from the NICU. The lactation consultant told me to not feel discouraged, as he would probably never latch on. That drove me to fight even harder to have a breastfeeding relationship with him, not with just bottles, but also with nursing. When he came home I tried every day to get him to latch with no success.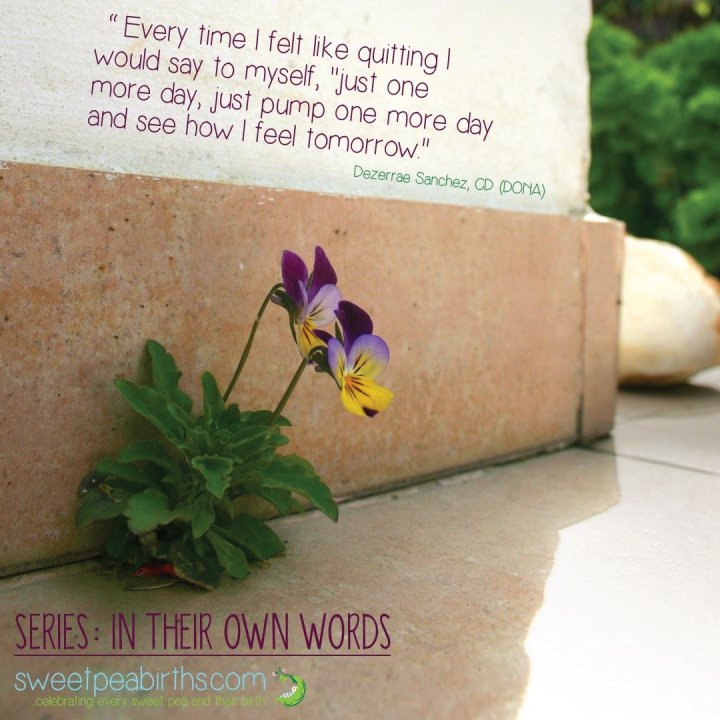 When he was 3 months old I felt so tired of pumping, and felt like quitting. Late at night I cried it all out, took a deep breath, and tried to nurse him at 3 am. At 3 am at 3 months old he latched on, and he nursed every day after that. It was amazing: just when I felt like quitting our prayers were answered. Every time I felt like quitting I would say to myself, "just one more day, just pump one more day and see how I feel tomorrow.'' That mantra got us through a year of breastfeeding.
My suggestion to anyone attempting to breastfeed would be to find a friend or peer to connect with and ask questions. My first time would have been so much more successful had I had even one person to ask questions and have them say, you're going to be ok! This is normal. You're doing a great job, and it's ok to be frustrated with the process. With my first child I tried to power through it all on my own. I couldn't. I needed support. Never be ashamed or scared to reach out for help.  When you are having a hard time or feeling like your body is not your own just remember, get through one more day and sleep on it. Tomorrow is another day.
Do you have a NICU breastfeeding story? What helped you?
Please leave us a comment - it will be moderated and posted. 
Dezerrae is a Certified Doula through Doulas of North America (DONA). She has a passion for helping other families through their birth journey.  You can contact her here:
Disclaimer: 
The material included on this site is for informational purposes only.
It is not intended nor implied to be a substitute for professional medical advice. The reader should always consult her or his healthcare provider to determine the appropriateness of the information for their own situation.  Krystyna and Bruss Bowman and Bowman House, LLC accept no liability for the content of this site, or for the consequences of any actions taken on the basis of the information provided.  This blog contains information about our classes available in Chandler, AZ and Payson, AZ and is not the official website of The Bradley Method®. The views contained on this blog do not necessarily reflect those of The Bradley Method® or the American Academy of Husband-Coached Childbirth®.
Categories: Breast Pumps, Breastfeeding, Breastfeeding Awareness Month, Breastfeeding Challenges, Breastfeeding support, In Their Own Words, NICU, Premature Baby, World Breastfeeding Week
/