...celebrating every swee​t pea their birth
| | |
| --- | --- |
| Posted on August 31, 2015 at 9:19 AM | |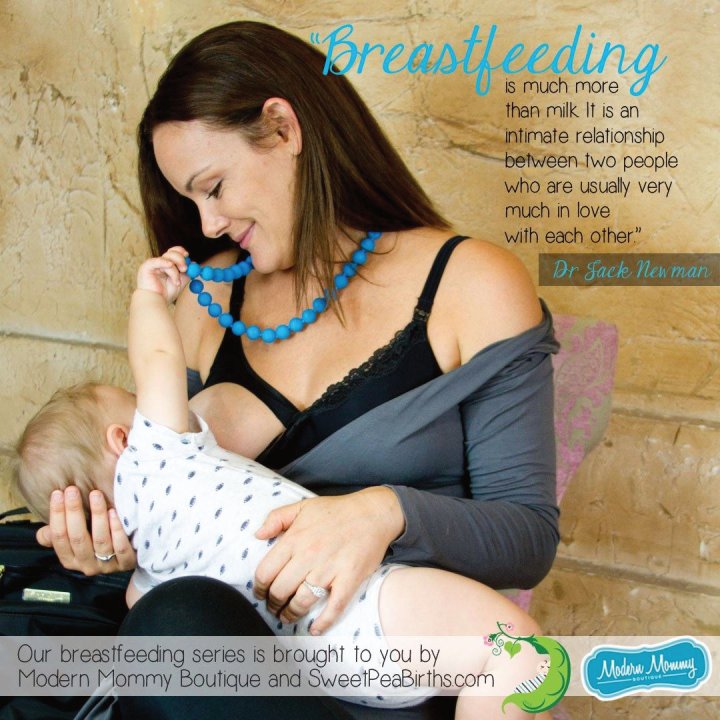 Laura is wearing an Elle MacPherson nursing bra, robe by Kickee Pants, nursing/teething necklace by Chewbeads
What a perfect quote to round out Breastfeeding Awareness Month.  I hope anyone who read through our posts this month got the message that breastfeeding is important, valuable, and worth it, even if your baby is only getting an ounce of milk from you every day.  I will list my favorite breastfeeding resources at the end today's post for anyone who is wanting to breastfeed and needs a little support right now.
When the MotherBaby biofeedback loop is intact, we make a myriad of hormones that promote milk production (however much that may be) and make us fall in love with our Sweet Peas a little bit more every time we breastfeed.  It is no surprise that most nursing mothers spend some, if not all, of the time they are breastfeeding gazing at their Sweet Peas.
Dr. Jack Newman is a Canadian pediatrician that I had the privilege of seeing the summer of 2011.  Seeing him speak revolutionized the way I thought about breastfeeding. 
HERE
is his amazing website with videos to help families breastfeed, and he also has an active social media page where he answers questions and offers insights
HERE
.
My favorite quote from his presentations was, "Breastfeeding is much more than milk."  It made me realize three things.  One: we are not crazy for wanting to help mothers succeed at breastfeeding, however they define that success.  Two: Every ounce of milk is precious, so even if the baby is being supplemented with donor milk or formula, that time spent at the breast is still important, valuable, and worth having even if the baby is simply suckling for comfort.  Three: about that comfort nursing: it's okay!! We are not spoiling our babies since breastfeeding is much more than milk!!  Letting them linger at their safe place reassures them, validates them, and grows the bond between the MotherBaby.
There were other great takeaways from his talks – you can read more about them
HERE
(see my big pregnant belly in the photo)
.
As Otter and I wind down our breastfeeding relationship, I treasure every session because I really do not know when the last one is going to be.  She is asking less and less; we are down to our evening bedtime routine most evenings.  She falls asleep without me a couple of nights a week, which is the natural progression of things as she is now fast approaching her fourth birthday.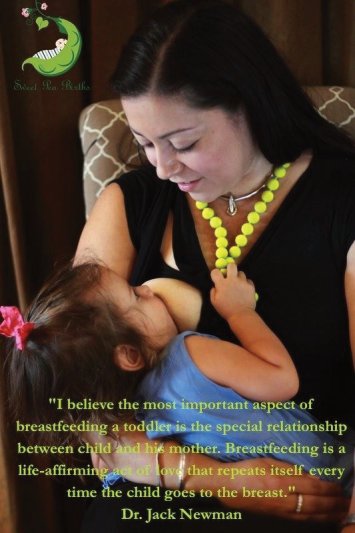 Photo from our 2012 breastfeeding photo shoot
So enjoy every moment you spend with your Sweet Pea at the breast without feeling guilty that you should be doing something else.  Someday it is going to end, and you will have a lifetime of "something else" to do ahead of you. 
Please leave us a comment - it will be moderated and posted. 
FAVORITE BREASTFEEDING RESOURCES
Dr. Jack Newman
 – Information and videos – he runs a Breastfeeding Clinic in Canada
Social Media page
HERE
Infant Risk Center
 – Information and helpline run by the author of "Medications and Mother's Milk" – answers to your questions about whether you can nurse after using medications or drugs – investigate on-line or with live help during business hours
Support Groups
Local Peer-to-Peer support groups:
Look for your La Leche League area calendar online or hospital groups run by IBCLCs.  Homebirth midwiwves often offer a breastfeeding or mama group, and birth centers usually host monthly or weekly breastfeeding groups.  In AZ, you can also take advantage of the resources at the
Arizona Breastfeeding Center
.
Disclaimer:
The material included on this site is for informational purposes only. 
It is not intended nor implied to be a substitute for professional medical advice. The reader should always consult her or his healthcare provider to determine the appropriateness of the information for their own situation.  Krystyna and Bruss Bowman and Bowman House, LLC accept no liability for the content of this site, or for the consequences of any actions taken on the basis of the information provided.  This blog contains information about our classes available in Chandler, AZ and Payson, AZ and is not the official website of The Bradley Method®. The views contained on this blog do not necessarily reflect those of The Bradley Method® or the American Academy of Husband-Coached Childbirth®.
Categories: Breastfeeding, Breastfeeding Awareness Month, Breastfeeding Challenges, Breastfeeding in Public, Breastfeeding support, World Breastfeeding Week
/