...celebrating every swee​t pea their birth
| | |
| --- | --- |
| Posted on September 29, 2015 at 8:15 AM | |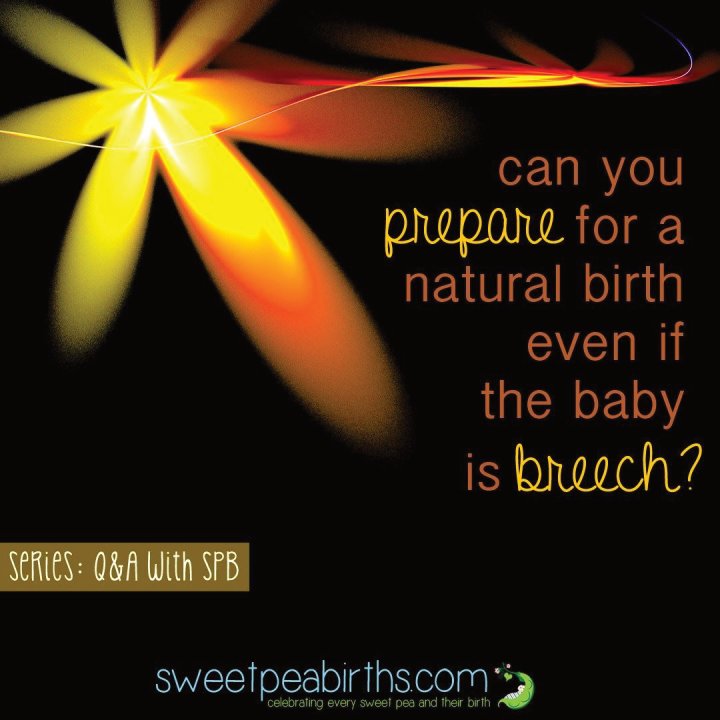 Can we prepare for a natural birth even if our baby is breech?
The answer is yes!!  The statistics are in your favor.  Only 4% of babies remain in the breech position at the time of labor and birth.
Notes from today's video:
Even if you end up with a cesarean birth after exhausting all your options, by preparing for a natural birth, you can still take advantage of the information you learned in your childbirth class:
Consumerism and informed consent:
can help you negotiate to allow your labor to start naturally and then (if necessary) head to the operating room after a trial of labor. Babies have been known to turn vertex (head down) during labor - you may decide it's worth trying. At the very least, you will get some of the
benefits of the hormones
that you are meant to get during labor if your labor happens according to your body/baby's schedule.
Relaxation techniques:
can help you be present and intentional during your cesarean birth.  
HERE
is a post we have done exploring the options around a gentle cesarean, also known as a family-centered cesarean.
Exercise and nutrition: Our students who have cesarean births in order to preserve their Healthy Mom, Healthy Baby birth plan often report that their recoveries are vastly different from their friends who did not take Bradley classes.  The physical aspect of their recoveries are easier and shorter thanks to the fact that their body that was physically prepared for the act of birthing.
What are some of your options?  Find 3 full lists of ideas plus a visualization script 
HERE
Here is a short list:
External Cephalic Version (medical solution)

Webster Protocol (chiropractic technique)

Acupuncture

Moxibustion

Inversions

Swimming

Music

Hot/Cold compresses

Light

Visualization

Prayer
Links For More Reading
SPB posts
5 Point Plan for Breech Babies: http://goo.gl/2WYf4n
Our Breech Story:  http://goo.gl/EP6F9V
Gentle Cesarean: http://goo.gl/xeixuI
Turning the baby:
External Cephalic Version: http://goo.gl/FSaFLV
Dr. Ross on Webster Protocol (chiropractic technique): https://youtu.be/A3762xOCMcs
Spinning Babies ("Natural" ways to encourage optimal fetal positioning): http://goo.gl/oHyHm
Breech Tilt: http://goo.gl/A6r9zV
Studies about Breech Babies
Statistics on the 3 different breech presentations: http://goo.gl/fJ0yxW
Acupuncture and Moxibustion: 
http://www.ncbi.nlm.nih.gov/pubmed/15280133
Long term outcomes the same for vaginal and cesarean deliveries of breech babies: 
http://www.ncbi.nlm.nih.gov/pubmed/23197237
Disclaimer: 
The material included in this video is for informational purposes only. It is not intended nor implied to be a substitute for professional medical advice. The viewer should always consult her or his healthcare provider to determine the appropriateness of the information for their own situation.  Krystyna and Bruss Bowman and Bowman House, LLC accept no liability for the content of this site, or for the consequences of any actions taken on the basis of the information provided.  This blog and video contain information about our classes available in Chandler, AZ and Payson, AZ and is not the official website of The Bradley Method®. The views contained in this video and on our blog do not necessarily reflect those of The Bradley Method® or the American Academy of Husband-Coached Childbirth®.
Categories: Breech presentation, Breech turning techniques, ECV, External Cephalic Version, Q&A with SPB
/