...celebrating every swee​t pea their birth
| | |
| --- | --- |
| Posted on June 22, 2016 at 9:38 AM | |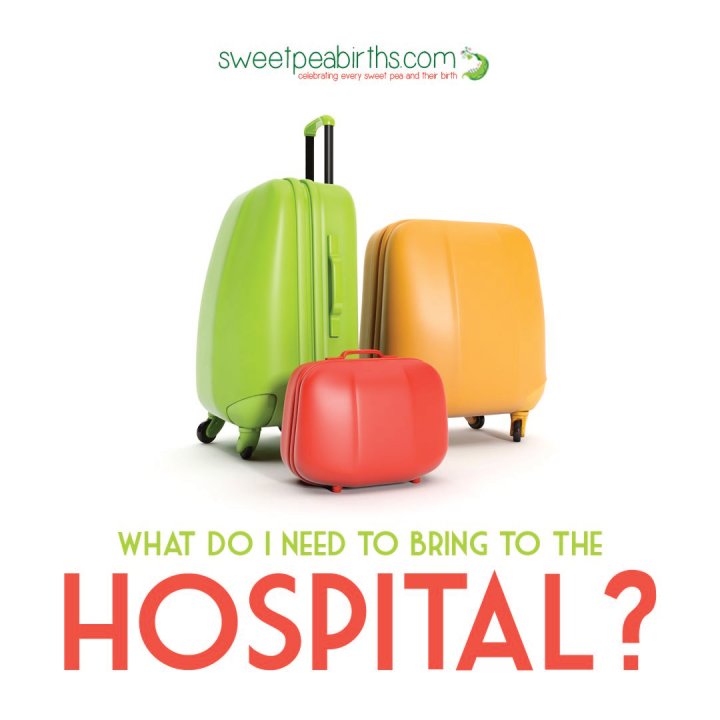 What do I need to bring with me to the hospital?
This is one of the topics we cover briefly in our classes.  The short answer is: Anything you would regret leaving behind…
As one dad in our last class said, "I was picturing a small duffle bag, now it seems like we are going to be packing suitcases!!"
Whatever size your bag ends up being really depends on what it's going to take for the mother to feel safe and secure in her birth space. One of the many benefits of homebirth is that "all the comforts of home" are built in!
The degree to which the mother wants to re-create the home environment in her birth space will determine how much you are bringing with you to a birth space outside of the home.
The bare minimum of what you will be packing:
Mom:
Clothing to labor in if you will forgo the hospital gown
Nursing bra (Click HERE to read about buying nursing bras)
Clothing to go home in – plan to wear the size of clothing you were wearing around 6 months into your pregnancy.
Toiletries
Any daily medication
Phone Charger
Partner:
Change of clothing
Toiletries
Breath Mints
Swim Trunks
Two pairs of shoes/socks
Phone charger
Baby:
An outfit for hospital pictures
An outfit to wear home (may be the same as picture outfit)
Car seat
It was our experience that the hospital will provide diapers, blankets to swaddle and to be used as burp cloths, and other miscellaneous baby items (shampoo, lotion, etc.). If you want to go organic from the start, plan to bring your own.
The bags get bigger when the mother wants to bring flameless candles, music player and speakers, her own blankets, her own pillows, pictures, affirmation cards and/or signs, camera and camera bag, her own birth ball, a yoga mat…I won't confess to taking all of these with me to our hospital births…about 80% of this list did get carried in to the hospital by my amazing husband. He really is an angel when it comes to supporting me in labor!!
The last idea I mention in reference to making the birth space "like home" are family heirlooms. If there is anything special from your family history that you want in your birth space, I encourage you to take a picture of it, print it at a minimum of 5"x7" format, and bring the picture with you.  You do not want to bring anything that you could not stand to lose. 
While you will probably be left alone for most of your labor, save for hourly check-ins by your nurse, once it's baby-time, the whole room is going to fill up with people and activity: your nurse, your care provider, an assistant nurse, the baby nurse, maybe a student or two…it gets crazy.  And since it is still standard practice for you to be moved to a recovery room within 2-3 hours of the birth, there is a lot of opportunity for things to get left behind or lost in the shuffle. Other possibilities for misplacement happen with things accidently get swept into the garbage or laundry bin as soiled items are replaced with clean items; or in what I hope are rare instances, they fall victim to sticky fingers.
The fact remains that even when I packed everything that I thought I wanted, we used maybe 30% of what I packed. I wouldn't change how or what I would suggest people pack, because having those things available gave me peace of mind that I was prepared for the "just in case" scenarios that were playing out in my head.
I would love to hear from you: did I forget anything in the essentials list? What else did you bring from the "extras" list?
 Disclaimer: 
The material included in this video and blog is for informational purposes only. It is not intended nor implied to be a substitute for professional medical advice. The viewer and/or reader should always consult her or his healthcare provider to determine the appropriateness of the information for their own situation.  Krystyna and Bruss Bowman and Bowman House, LLC accept no liability for the content of this site, or for the consequences of any actions taken on the basis of the information provided.  This blog and video contain information about our classes available in Chandler, AZ and Payson, AZ and is not the official website of The Bradley Method®. The views contained in this video and on our blog do not necessarily reflect those of The Bradley Method® or the American Academy of Husband-Coached Childbirth®.

Categories: Baby, Birth, Hospital Birth
/